What has happened in Syria? Is this the point of no return and "betrayal of Humanity" or this was just a "wrong" move and change in tactics to calm down the opposition and show of power? This article was meant to be different but TBU NEWS changed its mind and made a decision to try to be as Objective as possible and it's up to you to make a conclusion. TBU NEWS will not give one. There are 3 possible scenarios and outcomes of this situation. TBU NEWS will go trough each one of them. This article is going to be a long one. For all the dots to be connected properly and for you to be able to make a conclusion by yourself It is necessary to do it in this way. Lets start from the beginning…
Retrospective of the events following the Event Horizon (chemical attack and missile attack on Syria):
Situation in Washington was not good neither for Trump's administration neither for the establishment that was against Trump's agenda. Russia story was getting a boost especially in last couple of weeks. There was no win – win situation for anybody rather a gloomy finish. TBU NEWS has already spoken about this. Let us just remind you of couple of things that happened:
Trump – twitter 07.01.2017
"Intelligence stated very strongly there was absolutely no evidence that hacking affected the election results. Voting machines not touched! Only reason the hacking of the poorly defended DNC is discussed is that the loss by the Dems was so big that they are totally embarrassed! Having a good relationship with Russia is a good thing, not a bad thing. Only "stupid" people, or fools, would think that it is bad! We have enough problems around the world without yet another one. When I am President, Russia will respect us far more than they do now and both countries will, perhaps, work together to solve some of the many great and pressing problems and issues of the WORLD!"
Please visit the link below:
DONALD TRUMP – "TOGETHER TO SOLVE … MANY GREAT… PROBLEMS AND ISSUES OF THE WORLD!"
What was like media coverage of Trump's administration 
Just take a look at CNN, BuzzFeed, BBC, New York Times, Washington Post and their reports at that time. They where  constantly competing with each other who will be more successful in bashing of Trump's administration. All the time all the way. Elections are finished long time ago but the campaign continued and even more.
Let's name some of the main topics that were constantly spinned by these networks:
Russia, Russia hackings, Immigration policies, White House in problems, Cabinet still not fully approved, Human Rights, Freedom of Press, Protests .etc
They were doing it in purpose just to undermine White House administration on every step of the way. But this is not the only reason why they were doing it. They were deliberately making this atmosphere of chaos to eventually persuade people that what Trump is  doing  and is going to do is bad for the people and for the United States of America.
To put it simply, they were trying to shift peoples opinion and support away from the White House administration. They were  building "media floor" for possible impeachment of Trump and at the same time running a "non stop" campaign in preparation for next presidential elections that will come in four years.
We should never underestimate their influence and as it seems Trump did not underestimated them at all
Please visit the link below:
THE "WAR" ON TRUMP – WHY THEY DO IT?
Then the Obama wiretapping Trump story broke up and nothing was the same anymore.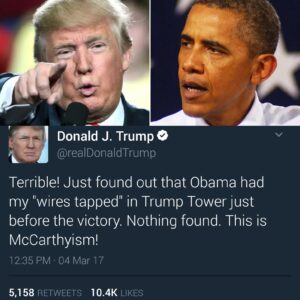 Drawing on sources including the New York Times and the Washington Post, Levin described the case against Obama so far, based on what is already publicly known. The following is an expanded version of that case, including events that Levin did not mention specifically but are important to the overall timeline.
1. JUNE 2016: FISA REQUEST. THE OBAMA ADMINISTRATION FILES A REQUEST WITH THE FOREIGN INTELLIGENCE SURVEILLANCE COURT (FISA) TO MONITOR COMMUNICATIONS INVOLVING DONALD TRUMP AND SEVERAL ADVISERS. THE REQUEST, UNCHARACTERISTICALLY, IS DENIED.
2. JULY: RUSSIA JOKE. WIKILEAKS RELEASES EMAILS FROM THE DEMOCRATIC NATIONAL COMMITTEE THAT SHOW AN EFFORT TO PREVENT SEN. BERNIE SANDERS (I-VT) FROM WINNING THE PRESIDENTIAL NOMINATION. IN A PRESS CONFERENCE, DONALD TRUMP REFERS TO HILLARY CLINTON'S OWN MISSING EMAILS, JOKING: "RUSSIA, IF YOU'RE LISTENING, I HOPE YOU'RE ABLE TO FIND THE 30,000 E-MAILS THAT ARE MISSING." THAT REMARK BECOMES THE BASIS FOR ACCUSATIONS BY CLINTON AND THE MEDIA THAT TRUMP INVITED FURTHER HACKING.
3. OCTOBER: PODESTA EMAILS. IN OCTOBER, WIKILEAKS RELEASES THE EMAILS OF CLINTON CAMPAIGN CHAIR JOHN PODESTA, ROLLING OUT BATCHES EVERY DAY UNTIL THE ELECTION, CREATING NEW MINI-SCANDALS. THE CLINTON CAMPAIGN BLAMES TRUMP AND THE RUSSIANS.
4. OCTOBER: FISA REQUEST. THE OBAMA ADMINISTRATION SUBMITS A NEW, NARROW REQUEST TO THE FISA COURT, NOW FOCUSED ON A COMPUTER SERVER IN TRUMP TOWER SUSPECTED OF LINKS TO RUSSIAN BANKS. NO EVIDENCE IS FOUND — BUT THE WIRETAPS CONTINUE, OSTENSIBLY FOR NATIONAL SECURITY REASONS, ANDREW MCCARTHY AT NATIONAL REVIEW LATER NOTES. THE OBAMA ADMINISTRATION IS NOW MONITORING AN OPPOSING PRESIDENTIAL CAMPAIGN USING THE HIGH-TECH SURVEILLANCE POWERS OF THE FEDERAL INTELLIGENCE SERVICES.
5. JANUARY 2017: BUZZFEED/CNN DOSSIER. BUZZFEED RELEASES, AND CNN REPORTS, A SUPPOSED INTELLIGENCE "DOSSIER" COMPILED BY A FOREIGN FORMER SPY. IT PURPORTS TO SHOW CONTINUOUS CONTACT BETWEEN RUSSIA AND THE TRUMP CAMPAIGN, AND SAYS THAT THE RUSSIANS HAVE COMPROMISING INFORMATION ABOUT TRUMP. NONE OF THE ALLEGATIONS CAN BE VERIFIED AND SOME ARE PROVEN FALSE. SEVERAL MEDIA OUTLETS CLAIM THAT THEY HAD BEEN AWARE OF THE DOSSIER FOR MONTHS AND THAT IT HAD BEEN CIRCULATING IN WASHINGTON.
6. JANUARY: OBAMA EXPANDS NSA SHARING. AS MICHAEL WALSH LATER NOTES, AND AS THE NEW YORK TIMES REPORTS, THE OUTGOING OBAMA ADMINISTRATION "EXPANDED THE POWER OF THE NATIONAL SECURITY AGENCY TO SHARE GLOBALLY INTERCEPTED PERSONAL COMMUNICATIONS WITH THE GOVERNMENT'S 16 OTHER INTELLIGENCE AGENCIES BEFORE APPLYING PRIVACY PROTECTIONS." THE NEW POWERS, AND REDUCED PROTECTIONS, COULD MAKE IT EASIER FOR INTELLIGENCE ON PRIVATE CITIZENS TO BE CIRCULATED IMPROPERLY OR LEAKED.
7. JANUARY: TIMES REPORT. THE NEW YORK TIMES REPORTS, ON THE EVE OF INAUGURATION DAY, THAT SEVERAL AGENCIES — THE FEDERAL BUREAU OF INVESTIGATION (FBI), THE CENTRAL INTELLIGENCE AGENCY (CIA), THE NATIONAL SECURITY AGENCY (NSA) AND THE TREASURY DEPARTMENT ARE MONITORING SEVERAL ASSOCIATES OF THE TRUMP CAMPAIGN SUSPECTED OF RUSSIAN TIES. OTHER NEWS OUTLETS ALSO REPORT THE EXISENTENCE OF "A MULTIAGENCY WORKING GROUP TO COORDINATE INVESTIGATIONS ACROSS THE GOVERNMENT," THOUGH IT IS UNCLEAR HOW THEY FOUND OUT, SINCE THE INVESTIGATIONS WOULD HAVE BEEN SECRET AND INVOLVED CLASSIFIED INFORMATION.
8. FEBRUARY: MIKE FLYNN SCANDAL. REPORTS EMERGE THAT THE FBI INTERCEPTED A CONVERSATION IN 2016 BETWEEN FUTURE NATIONAL SECURITY ADVISER MICHAEL FLYNN — THEN A PRIVATE CITIZEN — AND RUSSIAN AMBASSADOR SERGEY KISLYAK. THE INTERCEPT SUPPOSEDLY WAS  PART OF ROUTINE SPYING ON THE AMBASSADOR, NOT MONITORING OF THE TRUMP CAMPAIGN. THE FBI TRANSCRIPTS REPORTEDLY SHOW THE TWO DISCUSSING OBAMA'S NEWLY-IMPOSED SANCTIONS ON RUSSIA, THOUGH FLYNN EARLIER DENIED DISCUSSING THEM. SALLY YATES, WHOM TRUMP WOULD LATER FIRE AS ACTING ATTORNEY GENERAL FOR INSUBORDINATION, IS INVOLVED IN THE INVESTIGATION. IN THE END, FLYNN RESIGNS OVER HAVING MISLED VICE PRESIDENT MIKE PENCE (PERHAPS INADVERTENTLY) ABOUT THE CONTENT OF THE CONVERSATION.
9. FEBRUARY: TIMES CLAIMS EXTENSIVE RUSSIAN CONTACTS. THE NEW YORK TIMES CITES "FOUR CURRENT AND FORMER AMERICAN OFFICIALS" IN REPORTING THAT THE TRUMP CAMPAIGN HAD "REPEATED CONTACTS WITH SENIOR RUSSIAN INTELLIGENCE OFFICIALS. THE TRUMP CAMPAIGN DENIES THE CLAIMS — AND THE TIMES ADMITS THAT THERE IS "NO EVIDENCE" OF COORDINATION BETWEEN THE CAMPAIGN AND THE RUSSIANS. THE WHITE HOUSE AND SOME CONGRESSIONAL REPUBLICANS BEGIN TO RAISE QUESTIONS ABOUT ILLEGAL INTELLIGENCE LEAKS.
10. MARCH: THE WASHINGTON POST TARGETS JEFF SESSIONS. THE WASHINGTON POST REPORTS THAT ATTORNEY GENERAL JEFF SESSIONS HAD CONTACT TWICE WITH THE RUSSIAN AMBASSADOR DURING THE CAMPAIGN — ONCE AT A HERITAGE FOUNDATION EVENT AND ONCE AT A MEETING IN SESSIONS'S SENATE OFFICE. THE POST SUGGESTS THAT THE TWO MEETINGS CONTRADICT SESSIONS'S TESTIMONY AT HIS CONFIRMATION HEARINGS THAT HE HAD NO CONTACTS WITH THE RUSSIANS, THOUGH IN CONTEXT (NOT PRESENTED BY THE POST) IT WAS CLEAR HE MEANT IN HIS CAPACITY AS A CAMPAIGN SURROGATE, AND THAT HE WAS RESPONDING TO CLAIMS IN THE "DOSSIER" OF ONGOING CONTACTS. THE NEW YORK TIMES, IN COVERING THE STORY, ADDS THAT THE OBAMA WHITE HOUSE "RUSHED TO PRESERVE" INTELLIGENCE RELATED TO ALLEGED RUSSIAN LINKS WITH THE TRUMP CAMPAIGN. BY "PRESERVE" IT REALLY MEANS "DISSEMINATE": OFFICIALS SPREAD EVIDENCE THROUGHOUT OTHER GOVERNMENT AGENCIES "TO LEAVE A CLEAR TRAIL OF INTELLIGENCE FOR GOVERNMENT INVESTIGATORS" AND PERHAPS THE MEDIA AS WELL.
IN SUMMARY: THE OBAMA ADMINISTRATION SOUGHT, AND EVENTUALLY OBTAINED, AUTHORIZATION TO EAVESDROP ON THE TRUMP CAMPAIGN; CONTINUED MONITORING THE TRUMP TEAM EVEN WHEN NO EVIDENCE OF WRONGDOING WAS FOUND; THEN RELAXED THE NSA RULES TO ALLOW EVIDENCE TO BE SHARED WIDELY WITHIN THE GOVERNMENT…
Then House Intelligence Committee Chairman Rep. Devin Nunes comes out:
Please visit the links bellow:
BREAKING NEWS – OBAMA WIRETAPPED TRUMP – IS THIS THE END OF THE SILENT COUP ATTEMPT?
BREAKING NEWS – MASKS HAVE FALLEN – SHOULD US CONGRESS INTERVENE ON OBAMA WIRETAPPING TRUMP? – WAS THIS A "SILENT COUP" IN THE MAKING?
Please pay special attention to this article bellow:
Susan Rice revelations
Journalist and author Mike Cernovich dropped an exclusive bombshell – naming Obama's National Security Advisor Susan Rice as the official responsible for the 'unmasking' of the incoming Trump team during 'incidental' surveillance. This was apparently discovered after the White House Counsel's office reviewed Rice's document log requests:
 The reports Rice requested to see are kept under tightly-controlled conditions. Each person must log her name before being granted access to them.

Upon learning of Rice's actions, [National Security Advisor] H. R. McMaster dispatched his close aide Derek Harvey to Capitol Hill to brief Chairman Nunes.
Cernovich pointed out, as revealed in an article by Circa, that President Obama began loosening the rules regarding "incidental intercepts" starting in 2011 – making it easier for the US Government to spy on individuals who are not the primary target(s) of a surveillance operation.
 As his presidency drew to a close, Barack Obama's top aides routinely reviewed intelligence reports gleaned from the National Security Agency's incidental intercepts of Americans abroad, taking advantage of rules their boss relaxed starting in 2011 to help the government better fight terrorism, espionage by foreign enemies and hacking threats
And guess who had authorization to unmask individuals who were 'incidentally' surveilled? Former CIA Director John Brennan, former Attorney General Loretta Lynch, and Obama's National Security advisor Susan Rice. Also of note is the claim that New York Times journalist Maggie Haberman has been sitting on the Susan Rice story for at least two days:
This reporter has been informed that Maggie Haberman has had this story about Susan Rice for at least 48 hours, and has chosen to sit on it in an effort to protect the reputation of former President Barack Obama.
In meantime the other side did not stood still…As you can see everything was pointing to a gloomy finish. The situation in Washington was on verge of chaos. The need for a solution to this chaos was of utter importance and as soon as possible. Was Syria that "solution"? Lets continue …
Health care NO PASS
House Speaker Paul Ryan sensationally pulled his Obamacare repeal bill from the floor Friday afternoon, a day after President Donald Trump had threatened to walk away from health care reform if he didn't get a vote.
"We were very close," Trump said in the Oval Office after the bill was pulled. "It was a very, very tight margin."
The decision to delay the vote marks an acute embarrassment for the President, who had gambled big by presenting holdout House conservatives with a take-it-or-leave it ultimatum Thursday night and put his own credibility on the line.
But Trump repeatedly pointed the finger directly at Democrats, who all opposed the measure, rather than at his own party, which holds a significant majority in the House.
"We had no Democratic support," he said. "I've been saying for the last year and a half that the best thing we could do, politically speaking, is let Obamacare explode. It's exploding right now."
Trump reiterated the point in a tweet Saturday morning, saying, "Obamacare will explode and we will all get together and piece together a great health care plan for THE PEOPLE. Do not worry!"
It became clear during a day of intense political intrigue that despite fierce arm-twisting by Trump, Ryan and other leaders that the votes simply were not there to pass the bill and the leadership and the White House were headed for a lopsided defeat.
They were unable to narrow the schism between Freedom Caucus conservatives, who believe the bill keeps too much of Obamacare intact, and moderates who worry they will pay an electoral price if millions of Americans lose health insurance.
Reported by CNN
Democrats  blocking of  Judge Neil Gorsuch
Democrats appeared Sunday to have rallied enough support for a filibuster of JudgeNeil Gorsuch, forcing Republicans to prepare to trigger the "nuclear option" to install President Trump's first nominee to the U.S. Supreme Court this week.
Sen. Jon Tester's announcement Sunday that he'll join fellow Democrats' filibuster was the latest signal that Republicansprobably won't be able to rally the 60 votes needed to overcome the blockade on JudgeGorsuch, a well-regarded jurist who's been ensnared by anti-Trump politics.
"Looks like we have the 60 — the votes to prevent Gorsuch from getting on," Senate Minority Leader Charles E. Schumer had said earlier Sunday on NBC's "Meet the Press," claiming victory in the filibuster fight.
Republicans said no matter what Democrats do, the outcome will be the same: JudgeGorsuch will be sitting on the court in a matter of days. All that remains is whether Democrats force — and Republicans follow through on — a major change to filibuster rules.
"I can tell you that Neil Gorsuch will be confirmed this week," Senate Majority Leader Mitch McConnell said, countering Mr. Schumer on NBC. "How that happens really depends on our Democratic friends. How many of them are willing to oppose cloture, on a partisan basis, to kill a Supreme Court nominee? Never happened before in history, in the whole.
Repoprted by The Washington Post
Have you forgot these senators:
These two senators are the main obstacle  to Trump's administration on many topics but especially over foreign policies.
Lets name some of them: NATO, EU, Syria, Ukraine, Montenegro etc.
Montenegro joining NATO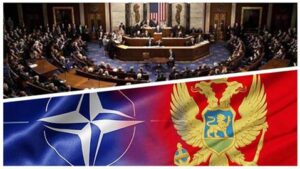 The Senate  approved a treaty allowing Montenegro to join NATO in a 95-2 vote.
The only two senators opposed were Sens. Mike Lee, R-Utah, and Rand Paul, R-Ky. They were among a very small minority of lawmakers who believe that letting the Balkan country into NATO would not strengthen the alliance, and in fact, would impose more of a potential burden on the U.S.
"Most Americans can't find Montenegro on a map," Sen. Rand Paul, R-Ky., said on the Senate floor Monday. "Are you willing to send your kids there to fight?"
Paul was the target of Sen. John McCain's anger earlier this month, when McCain said Paul's effort to stall the treaty meant that he was "working for Vladimir Putin."
Senator Rand Paul said: President Donald Trump said in his inaugural address: "We've defended other nation's borders, while refusing to defend our own." I couldn't agree more. Today, the question is: Will we add yet another commitment to defend yet another foreign country? For decades, NATO has been an organization where the U.S. disproportionately spends our blood and treasure. The other NATO countries have largely hitched a ride to the U.S. train that subsidizes their defenses and allows them to direct their revenues to domestic pursuits.
Adding a country with fewer than 2,000 soldiers to NATO is not in our self-interest. There is no national security interest that an alliance with Montenegro will advance. If we invite Montenegro into NATO, it will be a one-way street with the U.S. committing to defend yet another country.
Those who want to allow Montenegro into NATO believe that unless the whole world joins NATO, Russia will conquer the world. The truth is, as always, more complicated.
During the Cold War, the myth of Russian might was endlessly circulated here at home and the effect was the production of endless munitions and ever-expanding debt. The Cold War ended and the Soviet Union failed, not because our military might overcame them but because their economic system was fundamentally flawed and our economic system outlasted them.
Now, we are told we must fear the Russian Bear once again. But if you look closely you will see that Russian aggression around the world, particularly among the former Soviet satellites, is an attempt to mask a weak economy that runs the same risk of over-extension. Without question, Russia is an adversary, a country that ignores international norms and does not respect the territorial integrity of its neighbors. But Russia is weak because of corruption, oligarchy and human rights abuses. If Russia continues on this path, they may well encounter the same cataclysm that brought down the Soviet empire.
This debate today is not just about Montenegro but about NATO expansion in general. The same cheerleaders for admitting Montenegro also recklessly pushed to admit Ukraine and Georgia; if they were still members, we could right now be at war with Russia.
Trump's decision to accept Montenegro as next NATO member, Montenegro's ratification by US Senate and Russia accepting it may result in one less obstacle towards the improvement of US / Russia relations. 
NATO, EU and Especially UK was constantly waving with Montenegro in front of the public making a clear obstacle to Trump's agenda and possible improvement in US / RUSSIA relations. US approval and Russia accepting it is a good thing for Montenegro. Why?  As a small country that is there where no benefits for Montenegro to be involved in games between Russia, US and EU. Just remember the Ukraine and every small country that was used in games of big ones. What has happened at the end? The small ones always got the worst of it. US approval and Russia accepting it has removed Montenegro from this game and it is a good thing especially for the people of this small country.
Please visit the link bellow:
Sen. Rand Paul: Montenegro Joining NATO Is Against U.S. Interests
Lets not forget constant objections coming from European Union and NATO towards the Trump agenda. We should not forget what has happened in 2016.
The 2016 has been a year of revolution. Revolution of human mind and perception. 2016 was the year when the British people have spoken. Their voice was a clear rejection of the establishment, elite and globalism  by voting to exit the European Union. This is the year when people from United States gave their voice for change, for Donald Trump and again the voice was loud against the establishment and the old world order.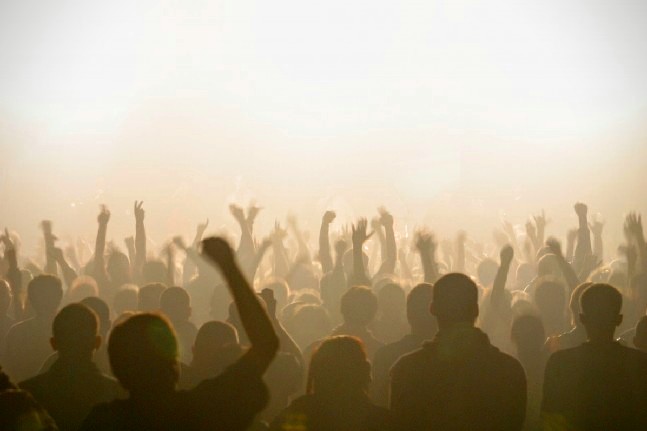 They realize this and right now the only thing they can do is repression or to accept and change.Soon the people of France will decide about their future and the future of European Union. Things are changing very fast. People of Italy have made a decision and with majority of votes said NO to constitutional reform's of prime minister Matteo Renzi. This decision may have great impact on the future of Europe.
Establishment of European Union is out of touch from reality and apparently they are trying to do whatever they can to stop the change to happen as nothing has happened. But it is impossible to stop it. The Wave has begun and they are being more and more isolated by every minute that passes by.
"WHEN INJUSTICE BECOMES A LAW, REBELLION BECOMES A DUTY"
The only chance for European Union to survive this wave is to reorganize it's system to be for the people and by the people, fair, prosperous and for the future. EU will change or will fall. Maybe not this year maybe not next but it will fall eventually if it does not change. EU has to change it's self from it's core and further.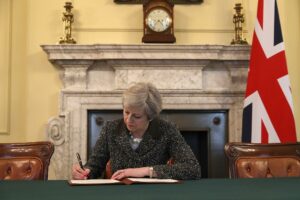 March 28th 2017
Theresa May signs Article 50 letter to begin 'momentous' EXIT from European Union.
I am not a naive person to think that these things happened without any special interest in the background. No, not at all. Nor should you!
We have two elites and two sides of perception  fighting each other for their vision of the future of humanity. Nevertheless we the people are here to decide and our voice is what counts. Remember free will of the people must be respected otherwise you are breaking the universal law and that is not allowed to happen!
Please visit the links bellow:
EUROPEAN UNION – THE BEGINNING OF THE END?
THE "OLD" WORLD ORDER HAS BEEN DYING IN FRONT OF OUR EYES AND THE "NEW" ONE IS BEING BORN
RECENT EVENTS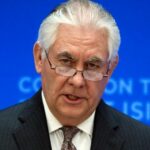 In Ankara on March 30, Tillerson commented that Assad's long-term status "will be decided by the Syrian people." On the same day, in New York, US UN envoy Haley has stated: "Our priority is no longer to sit there and focus on getting Assad out."
This statement coming from Tillerson was not something new nor unusual. This was just a confirmation of Trumps previous views expressed on Syria. Take a look:
Terrorist attack at St Petersburg Metro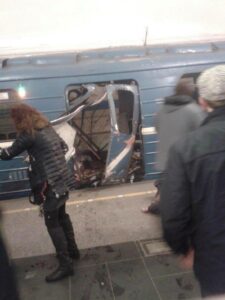 An explosion inside a train car of the St. Petersburg Metro system has resulted in casualties. 14 people were killed in the blast and more then 50 injured. Clear terrorist attack.
Eiffel Tower went dark at midnight for St Petersburg victims –
The mayor of Paris Anne Hidalgo announced that "Iron Lady" would turn of her her lights on Tuesday night. The mayor of Paris came under heavy pressure from the people to explain why the Eiffel Tower did not pay its usual respects to the victims of Monday's terror attack in St Petersburg as it did for those killed in London, Orlando and Brussels and others….Paris was the only major city of Europe that payed respect in this way!
Support coming from EU countries and the White House  (lets be politically correct) was shy at most.
Trump has condemned the explosion at the St. Petersburg Metro calling the incident a "terrible thing."  He did not do it on a press conference nor by his twitter account. It was done in a quite shy manner. But it is nothing unexpectable. Any direct and strong support coming from the White House to Russia even when terrorism is included would be labeled as Russia collusion by the Trump opposition  – Trump stated : "Terrible. Terrible thing. Happening all over the world. Absolutely, a terrible thing,"
Then Trump made a phone call to Putin expressing its condolences and they agreed: Terrorism is the evil against which is necessary to fight together –
So the situation at home was not going so smooth for Donald J. Trump nor there was any good prospect for the opposition of the White House administration. On the other hand Everything was going as it should be on the field of foreign policy. But something happened that can change everything. Somebody has deliberately created a horrible event with purpose in mind to clearly undermine Trump agenda or at least to "safely" move him away and put a stop on promises made during the election campaign, to put a stop on Global change that is underway as a last chance for Humanity itself.
EVENT HORIZON
More than 80 people have been killed in a suspected chemical attack on the rebel-held town of Khan Sheikhoun in north-western Syria.
Hundreds suffered symptoms consistent with reaction to a nerve agent after what the opposition and Western powers said was a Syrian government air strike on the area on Tuesday morning.
The Syrian military denied using any chemical agents, while its ally Russia said an air strike hit a rebel depot full of chemical munitions.
Reported by BBC
Syria's foreign minister has dismissed allegations that the Syrian Army had deployed chemical weapons in the city of Idlib, saying the military will never use such weapons against its own people or even terrorists.
Syrian Foreign Minister Walid Muallem denied claims that the military used chemical weapons in the western city of Idlib. Speaking at a news conference on Thursday, Muallem said an airstrike by Syrian military had targeted an arms depot where chemical weapons stockpiles were stored by Islamic State (IS, formerly ISIS/ISIL) and Al-Nusra Front militants.
He said it's impossible that the army – which has been making significant gains in almost all theaters of the Syrian war – would use banned chemical weapons against its "own people" and even terrorists.
Asked if Damascus would allow a fact-finding mission into the Idlib incident, Muallem said past experience of similar investigations was "not encouraging." He also said that he could not predict "the reality of US intentions" in Syria.
'Monstrous crime'
Meanwhile, Dmitry Peskov, spokesman for the Russian president, said the Kremlin believes the Syrian military will do its utmost to prevent chemical agents from falling into the hands of terrorists.
"This was indeed a dangerous and monstrous crime, but in our opinion, it would be wrong to point fingers," Peskov told reporters on Thursday. The Kremlin spokesman said Moscow does not agree with assessments provided by certain Western countries.
"Immediately after the tragedy no one had access to this area, so no one could have hard verifiable data. Consequently, any information which the US side or our colleagues from other countries might have had access to, could not be based on objective facts," Peskov told reporters.
Though Peskov rejected "hasty assessments" of the alleged use of chemical weapons, he emphasized that there are always disagreements between Moscow and Washington, but mutual discords over the Idlib incident are unlikely to affect "the spirit of our cooperation."
 UK security analyst told RT the rebels were the only force that benefited from the incident.
"The people who have benefited from this kind of attack are the rebels themselves, because they have gained a major political advantage at a time when they are struggling both strategically and geopolitically," Charles Shoebridge, a British security analyst and counterterrorism expert, told RT.
Shoebridge was referring to the recent attack in the town of Khan Sheikhoun that reportedly killed at least 58 people, including 11 children under the age of eight, according to medical workers and the Britain-based Syrian Observatory for Human Rights, as cited by Reuters.
The expert went on to say that the Syrian government forces in fact had no motivation to carry out such an attack, as they are already "gaining major victories" over the armed opposition groups and terrorists alike "across Syria."
He stressed that this attack would only provoke "the condemnation of the world community," and would be absolutely ineffective from a military point of view. He also drew attention to the suspicious timing of the attack, which occurred just days before a major conference on Syria in Brussels.
The "Brussels Conference on Supporting the Future of Syria and the Region," co-chaired by the UN and the governments of Germany, Kuwait, Norway, Qatar and the United Kingdom, is to be held in Brussels on April 4 and 5. It will focus on "boosting support for a lasting political resolution to the Syrian conflict through an inclusive and Syrian-led political transition process under the UN auspices," according to the European Commission's official website.
Shoebridge said that there is a history of similar incidents occurring in Syria on the eve of some major international events in the past.
"There is a pattern of these incidents taking place at critical moments from a geopolitical perspective," he said, adding that a massive chemical attack in the Syrian city of Ghouta in 2013 happened just as "the UN inspectors were arriving in Damascus," while another chemical attack in September 2016 took place on the eve of a "major conference in London, where the Syrian opposition met with its foreign donors."
Ammar Waqqaf, a Middle East expert, also believes that "whenever there is a sort of international conference on Syria we suddenly have these chemical attacks." Waqqaf told RT that there is no solid evidence proving that the Syrian Army was behind the most recent attack in Khan Sheikhoun.
"This is not the first time when chemicals are used on the ground in order to say that the Syrian Army did it but there was no proof that the Syrian Army indeed did it," he said, adding that "the allegation that the Syrian Army did it definitely needs proofs."
Waqqaf also doubted that the Syrian Army had a motive for conducting such an attack: "Why would the Syrian Army target only civilians with these chemical weapons, why do not they also target all those swarms of jihadists… at militant checkpoints? If the Syrian Army is not using chemical weapons even against the advancing militant or terrorist forces, like ISIS, why would it use it against civilians at a specific point of time?"
Reported by RT
Former Rep. Ron Paul (R-TX) suggested the chemical weapon earlier this week blamed on the Syrian government could be a false flag.
Paul went as far to say there was zero chance Syrian President Bashar al-Assad was to blame because it wouldn't make sense for him to use chemical weapons at this point in time.
"I looked at The New York Times to get the explanation, and they said 'Worst Chemical Attack In Years In Syria, U.S. Blames Assad,'" Paul said. "So it is all over and done with? But it is not quite so easy, is it? What happened four years ago in 2013? You know, this whole thing about crossing the Red Line. And ever since then the neo-cons have been yelling and screaming — even part of the administration has been yelling and screaming about Assad using poison gasses on his people four years ago. Not quite true. It was never proven."
"[I]t doesn't make any sense for Assad under these conditions to all of a sudden use poison gasses," he continued. "I think there is a zero chance he would have done, you know, this deliberately. But we could also go ask a famous Senator who is famous for foreign policy. We could go ask John McCain to explain it. And he found somebody to blame. And I don't know why he has it in for the president."
"McCain says blame Trump," Paul later added. "It is all Trump's fault because he hasn't been aggressive enough."
Please watch the video bellow:
At the same time there was a ongoing official visit of China's  president Xi Jinping to the United States of America.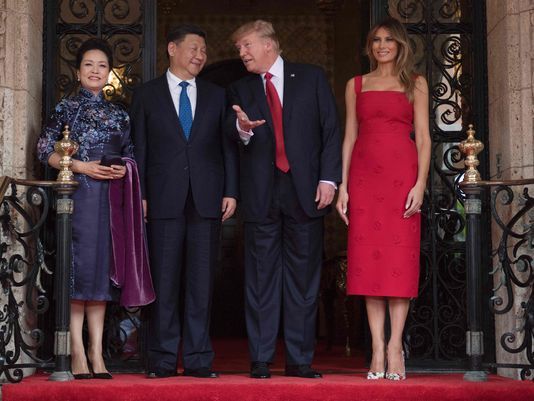 DESPITE  EVERYTHING DONALD TRUMP THE PRESIDENT OF THE UNITED STATES DOES SOMETHING THAT STOPS ANY POSSIBLE AND PROPER INVESTIGATION INTO THIS MONSTROUS CRIME.
STRIKE ON SYRIA HAS BEGUN
---
Pentagon stated that the U.S. military planners took precautions to minimize risk to Russian forces –
Russian forces were notified in advance of the strike using the established deconfliction line, Davis said, and U.S. military planners took precautions to minimize risk to Russian or Syrian personnel at the airfield.
---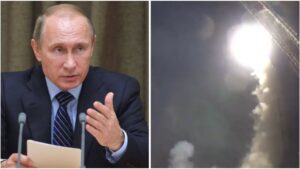 Vladimir Putin – US attack on Syria violates international law –
President Putin "regards the strikes as aggression against a sovereign nation," Dmitry Peskov said, noting that the president believes the strikes were carried out "in violation of international law, and also under an invented pretext."
Peskov also insisted that "the Syrian army doesn't have chemical weapons," saying this had been "observed and confirmed by the Organization for the Prohibition of Chemical Weapons, a special UN unit." – This step deals significant damage to US-Russian ties, which are already in a deplorable state,"
–—————————————————————————————————–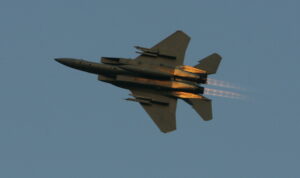 RUSSIA RESPONSE – U.S. PLANES NOT ALLOWED OVER SYRIA ANYMORE-
Russia has suspended its memorandum of understanding on air safety over Syria with the United States following the US missile attack on Syria.
---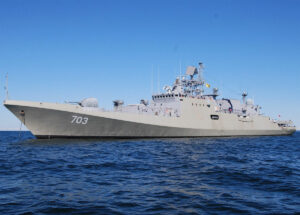 Russian warship Admiral Grigorovich was heading towards the location of two U.S. Navy destroyers that launched missile strikes into Syria –
A Russian warship entered the eastern Mediterranean Friday and was heading toward the area where two U.S. Navy destroyers launched missile strikes into Syria, Fox News has learned.
The Russian frigate, Admiral Grigorovich RFS-494, crossed through the Bosphorus Strait "a few hours ago" from the Black Sea, according to a U.S. defense official.
The Russian warship is now in the eastern Mediterranean and was steaming in the direction of the U.S. warships.
The Admiral Grigorovich is armed with advanced Kalibr cruise missiles.
---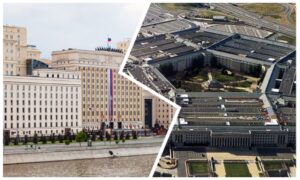 SAFETY LINE CLOSED – RUSSIA IS SUSPENDING DECONFLICTION CHANNEL WITH U.S. ON SYRIA –
The Russian Defense Ministry said in a statement: These actions of the American party are considered as a serious violation of the Memorandum on prevention of incidents and providing security during operations in the air space of Syria signed in 2015.
The Russian Defence Ministry suspends the cooperation with the Pentagon within this Memorandum.
All the accusations against Damascus that it had violated the Chemical Weapons Convention of 2013 given by the USA as reasons for the strike are groundless.
The Russian Defence Ministry has repeatedly explained that the Syrian troops had not used chemical weapons. The Russian military department is looking forward to receiving explanations from the USA concerning the existence of irrefutable proof that the Syrian army had used chemical weapons in Khan Sheikhoun.
It is to be stressed that in the years 2013-2016 the Syrian government undertook all measures to eliminate chemical weapons, its delivery systems, production facilities. All chemical weapons stocks have been eliminated. The components for their production have been transported from the Syrian Arab Republic to the enterprises of the United States, Finland, Great Britain, and Germany where they have been destroyed.
The US administrations have changed but the methods for unleashing wars have remained the same since bombardments of Yugoslavia, Iraq, and Libya. Allegations, falsifications, grandstand playing with photos and test-tubes with pseudo results in international organizations became the reason for aggression initiation instead of an objective investigation.
Again UK: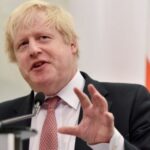 The UK foreign secretary has called off a visit to Moscow in the wake of the Syrian chemical weapons attack.
Boris Johnson, who had been due to travel on Monday, said the situation had changed "fundamentally" and his priority was to build international support for a ceasefire.
He said the UK called on Russia to do everything possible to bring about a "political settlement in Syria".
"We deplore Russia's continued defence of the Assad regime,"
AT THE SAME TIME COUPLE OF IMPORTANT EVENTS DO HAPPEN
All of the sudden the main stream media that was against Trump is supporting Trump fearlessly.  The opposition disappears. NATO and EU is praising the attacks. Russian story and Russia alleged involvement in election tempering is officially dead. The story of Wiretapping of Trump and its closest advisers is dead too.
House Intelligence Committee Chairman Devin Nunes on Thursday stepped down temporarily from his role leading the committee's probe of Russian interference in the 2016 presidential campaign and possible surveillance of Trump associates by the prior administration.
Judge Neil M. Gorsuch was confirmed by the Senate on Friday to become the 113th justice of the Supreme Court, capping a political brawl that lasted for more than a year and tested constitutional norms inside the Capitol's fraying upper chamber.
President Donald Trump has removed Steve Bannon, his chief strategist, from the National Security Council, according to a filing in the federal registry.
Last but not least, all of this is happening during the visit of China's  president Xi Jinping to the United States of America.
Why all happened so fast? Why everything  has been done in such a hurry preventing any possible and proper investigation to take place?
Please watch the video bellow:
President Trump's decision to fire 59 Tomahawk missiles into Syria in retaliation for an alleged Assad chemical attack is said by the president to be in the "vital national security interest of the United States." Does he think Syria is about to attack us?
The Truth About Trump's Air Strike on Syria?
Please watch the video bellow:
THIS COULD BE A SITUATION THAT COULD DRIVE US INTO A CONFLICT OF WIDE PROPORTIONS WITH UNSPEAKABLE CONSEQUENCES OR THIS ALL IS JUST A CHARADE. A REALITY SHOW FOR ADULTS. THE QUESTION IS. FOR WHAT PURPOSE AND WHAT WILL IT BE ITS OUTCOME?
So finally what has happened here? Why Trump made such a decision? Is this Point of no return and "betrayal" of Humanity or just a "wrong" move to calm down the opposition and show of power? There are 3 possible scenarios and outcomes of this situation. TBU NEWS will go trough each one of them.
SCENARIO NUMBER ONE – ( DEFEAT )
The chemical attack in Idlib Syria is a false flag attack done by some radical/terrorist group or organization with the blessing coming directly from their Western and Middle East sponsors. The purpose of such attack is to sway the tide in all fronts in their favour. To destroy every possibility of Russia/US cooperation. Trump loyal advisers are being removed. Trump has defaulted under pressure. He has been broken. Trump agenda is officially dead. The Globalists/Elite have managed to get him and to destroy Trump's agenda. Everything is going to be the same as it was before and much worse. We will face a complete fall of our civilization in worst manner ever seen. Maybe not now but eventually we will. It is just a matter  of time. Conflict between super powers is imminent. Russia, US, Middle East countries, NATO countries, North Korea, China…Global conflict of wide proportions with unmeasurable consequences can happen.
But this scenario could not and will not stop the awakening of the humanity it will only prolong the inevitable.
Unfortunately Change will not happen trough change but trough chaos and tribulations.
SCENARIO NUMBER TWO – ( DECEPTION )
The chemical attack in Idlib Syria is a false flag attack done by some radical/terrorist group or organization with the blessing coming directly from their Western and Middle East sponsors. The purpose of such attack is to sway the story in all fronts. Simply said, the purpose of this kind attack is to sway the public opinion. Or to safely remove Trump from an agenda that was never meant to succeed. Trump agenda was just a trick an election charade to persuade people that change is coming.to persuade the people that there is no need for revolution because Trump is change. There must not be allowed for the "sacred" circle of 8 years democrats 8 years republicans to be broken. Basically what has happened is that We where all Deceived. It was just a Venting Hole for Humanity. We never had a real choice. The only choice that we made was: We chose the blueprint of our own demise! The question is where is Russia standing at this moment? Where is Russia in all of this? For Trump administration Syria is an escape boat. Everything is going to be the same as it was before and much worse. We will face a complete fall of our civilization in worst manner ever seen. Maybe not now but eventually we will. It is just a matter of time.
EU, US, Middle East countries, NATO countries, North Korea…Conflict between super powers is imminent but only if Russia and  others are on the right side of the History. But that would be the Global conflict of wide proportions with unmeasurable consequences.
This scenario also could not and will not stop the awakening of the humanity it will only prolong the inevitable.
Unfortunately in this scenario too, Change will not happen trough change as it was meant to be but trough chaos and tribulations.
SCENARIO NUMBER THREE – ( CHANGE IN TACTICS )
The chemical attack in Idlib Syria is a false flag attack done by some radical/terrorist group or organization with the blessing coming directly from their Western and Middle East sponsors. The purpose of such attack is to sway the tide in all fronts in their favour. To destroy every possibility of Russia/US cooperation. But Trump did the right thing and he did it fast. The only thing that he was supposed to do, that he could do and at the same time doing everything to avoid Russian radical response. Trump is aware that this was a false flag attack as Russians do. This is just a replica of 2013th chemical attack event. But he made a decision / a calculation based on current strength of his administration and the situation in it's own backyard. Conflict between Russia and US is not an option neither for Russia nor US. That kind of conflict would be disastrous for the Humanity and both sides involved.
If Trump did not act in this way the agony of this False flag attack would followed his administration for long and would make him a lot of problems especially when situation at home is not so brilliant. If Trump did not act in this way and hestitated to do it this story would beautifully fall into Russia collusion and Russiagate story. Yes it sounds like a trap that he fell into but if we think harder he has done just the opposite of what was expected from him. With only one move Trump has gave a definite blow to Russia storry, controversy about Russia and their aleged interfering in the US elections of 2016th. In mean time he decided that Davin Nunes should step down and Steve Bennon from their positions as a sign of good will towards the opposition. Trump will keep them near him because those two are heavy artillery for possible future need.
With missile strike on Syria Trump has finally menaged to :
Shut down and at the same time satisfy  John Mcain and other hardliners from the Republican Party
Trump managed to achieve support from main stream media that just couple of hours before the strike where constantly breathing around his neck and where absolutely against him. Just look at some mainstream media and their report while missiles where fired …They have described the act as act of love. I can not believe what i am seeing but it is true. Some people are singing songs of love towards the tool of destruction and death. Sick!
Managed to get support from NATO countries and EU and just in right time just before the NATO summit.
Showed force of his cabinet and force of his military at home and on abroad. Do not forget that he ordered attack without the approval of United States Congress.
Finally, Trump did and managed to do all of this during the visit of President of China! Think about this. Strong message a clear show of power isn't it? But i think that despite all of this U.S. , Russia and China will get along quite well in the future…
Remember what Trump has said:
"I will be the president of Law and Order"
In this scenario Trump agenda continues but totally different tactics are being used. Nuclear Conflict between super powers will not happen. Minor and conventional conflicts might.
This scenario also could not and will not stop the awakening of the humanity it will only prolong it for a while.
Fortunately in this scenario Change will happen trough gradual change and not trough chaos and tribulations.
So this is it. Now it's up to you which one of these will happen. Or better which one you chose to happen. Maybe you will get to another conclusion that involves all the scenarios into one or something in between. But it's up to you. It's always been up to you. Free will of the people is the only thing that counts. What ever you do or chose do not empower them to hijack your free will! Be street wise and follow the events! We will know the answer soon.
Time will tell!
Sources used: White House, UN, Pentagon, Kremlin, RT, CNN, FOX, Washington Post, BBC, Sputnik…and many more
Written by Founder of TBU NEWS Zeljko Mihajlovic
Best Regards
TBU NEWS