It has passed almost 50 days from the inauguration of Donald J. Trump as 45th president of the United States of America. It appears that Trump is doing just what he has promised to do during the presidential campaign of 2106. Isn't he? Has Trump meet the expectations of the people? It was quite a ride i must tell you. I watched it. You watched it. First I will focus on American domestic situation then we will go trough global politics and foreign affairs. Lets start from the beginning:
Immigration policies
Trump has managed to do quite a lot in short period of time. He basically introduced new foundations for future immigration policies of United States. Honestly i can not see what is so bad and strange about it? First of all Trump is only doing what he has said he will do during the election campaign and second What the hell is wrong about saying:
"…gang members, the drug dealers, and the criminal aliens and throwing them the hell out of our country, and we will not let them back in. They're not coming back in, folks. If they do, they're gonna have bigger problems than they ever dreamt of,…For too long, we've traded away our jobs to other countries. We've defended other countries' borders while leaving ours wide open. Anybody can come in. We're gonna build the wall..We're getting bad people out of this country, people that shouldn't be – whether it's drugs or murder or other things…By stopping the flow of illegal immigration, we will save countless tax dollars, and that's so important, because the dollars that we're losing are beyond anything that you can imagine, and the tax dollars that can be used to rebuild struggling American communities, including our inner cities,"  Trump said.
What is wrong with this? Can anybody in their sane state of mind tell me what is wrong with this? NOTHING. You wouldn't​ either want to see these type of people in your own backyard nor your neighbourhood. Would you? What is the role of some main stream media in all of this? What is their agenda?  Where is their professional so called impartial and objective stand about this? Do not bother to search for it. It is not there. It does not exist. There is no objectiveness coming from main stream media in reports regarding Trump administration. There is only agenda in mind. Their main focus is to persuade the people of United States that Trump administration is in chaos. They are trying to convince the people that new White House administration is not working in their best interest but in interest of some foreign government in this case Russia. Every positive move done by Trump administration has been portrayed as a bad one and if that can not be achieved then they refuse to report it as it has no importance. Enough been said.
Travel bans and stopping potential terrorists to come into your country is a good thing right? What is the problem with that? I can not see it. Can You?
"We cannot compromise our nation's security by allowing visitors entry when their own governments are unable or unwilling to provide the information we need to vet them responsibly, or when those governments actively support terrorism," Attorney General Jeff Sessions
"We cannot allow a beachhead of terrorism to form inside America, I will not allow this country to become a "sanctuary for extremists." said Trump
What is wrong with this? Again NOTHING. Would you allow some crazy heartless person to enter your home. I think not!
For more information please visit this link below :
ISIS A MISTAKE THAT SHOULD BE ERASED
American Economy
US National debt is almost at 20,000,000,000,000 trillion dollars. Please visit this link below and you will be able to see and check what I'm talking about. You will be able to see in what state the US and the World economy is.
The US economy posted strong gains in February — US companies added about 235,000 workers, higher than the 200,000 jobs the economy has gained in a typical month during the current economic recovery.
February's report included other good news for workers too. Hourly wages rose by 2.8 percent from a year earlier. With the inflation rate around 2 percent, that means that a typical worker's paycheck goes a bit further than it did a year ago. Trump managed to bring down the unemployment rate down to 4.7% and only in 50 days of presidency.
Lets not forget that during 50 days of Trump administration Ford announced it would abandon plans to build a $1.6 billion plant in Mexico and would invest $700 million in a Michigan plant over four years, while Fiat Chrysler said  it will invest $1 billion and add 2,000 jobs at plants in Ohio and Michigan to build new SUVs and pickup trucks.
Toyota Motor (TM, +1.03%) said it would add 400 jobs and invest $600 million in an Indiana plant, aiming to boost production of a popular SUV by 10%.
Samsung may build U.S. factory
"The US is an important market for Samsung Electronics, and we have been making significant investments," including its its manufacturing facility in Texas, the company said in a statement. "We continue to evaluate new investment needs in the US that can help us best serve our customers."
"Since my election, Ford, Fiat-Chrysler, General Motors, Sprint, Softbank, Lockheed, Intel, Walmart, and many others, have announced that they will invest billions of dollars in the United States and will create tens of thousands of new American jobs. The stock market has gained almost three trillion dollars in value since the election on November 8th, a record. We've saved taxpayers hundreds of millions of dollars by bringing down the price of the fantastic new F-35 jet fighter, and will be saving billions more dollars on contracts all across our Government." said Trump during the joint session of congress.
The most important  thing that has happened was the Withdrawal of the United States from the Trans-Pacific Partnership that is killing and would kill the US economy and the Economy of mid size and small business all around the western civilizations. Favouring the big over small ones, neglecting the interests of people and bypassing the national laws and regulations.
TTIP – "The Transatlantic Trade and Investment Partnership was a series of trade negotiations being carried out mostly in secret between the EU and US. As a bi-lateral trade agreement, TTIP is about reducing the regulatory barriers to trade for big business, things like food safety law, environmental legislation, banking regulations and the sovereign powers of individual nations. It is, as John Hilary, (Executive Director of campaign group War on Want) said: "An assault on European and US societies by transnational corporations." – visit and read more about it on UK INDEPENDENT.
On January 24, President Trump signed a Presidential Memorandum expediting review of the application to build the Dakota Access Pipeline.  Construction of the 1,172 mile, $3.7 billion pipeline that carries oil from North Dakota into Illinois is almost complete, except for a 1,100 foot section under North Dakota's Lake Oahe, an important reservoir on the Missouri River.
"We have cleared the way for the construction of the Keystone and Dakota Access Pipelines — thereby creating tens of thousands of jobs — and I've issued a new directive that new American pipelines be made with American steel… My economic team is developing historic tax reform that will reduce the tax rate on our companies so they can compete and thrive anywhere and with anyone. At the same time, we will provide massive tax relief for the middle class.We must create a level playing field for American companies and workers. Currently, when we ship products out of America, many other countries make us pay very high tariffs and taxes — but when foreign companies ship their products into America, we charge them almost nothing." – said Trump on his first speech to joint session of congress.
Please visit the link below and read the full transcript of the speech made by Donald J. Trump:
PRESIDENT DONALD J. TRUMP'S ADDRESS TO A JOINT SESSION OF CONGRESS
What is wrong with all of this can anybody say something? Nothing but absolutely nothing. Main stream  media is making it sounds bad and when they do not have anything to say they go after Russia story and alleged ties between Russia and current US administration. TBU NEWS will try to explain to you "The Reason Why" these things happen​ but just after we have gone trough all the details of Trump first 50 days in power. This is going to be a long article so please be advised.
Health Care
Families across America have been harmed by the failed health care law. People were forced onto Obamacare when their previous insurance was canceled. Their premiums have gone up every year under the law. Higher deductibles are costing them thousands of dollars. Coverage has gotten worse. Nothing in Obamacare will ever change this trend.
In just a few months, health insurance companies will start filing their proposed rate increases for 2018. As deductibles and premiums rise together, more people will end up with expensive insurance they can never use.
According to the Kaiser Family Foundation, Americans in one-third of the country are forced to buy from a single Obamacare insurer. With Obamacare there is no longer an insurance marketplace, it's turned into a monopoly.The health care law also imposed about a trillion dollars in taxes over 10 years. These include higher taxes paid by people who have chronic medical conditions and those who buy prescription drugs. As time goes on, more people will be stuck paying higher taxes –
Please visit the link below and read the full article on the Washington times: 
Why Obamacare must be repealed
"We also inherited a failed health care law that threatens our medical system with absolute and total catastrophe. Now, I've been watching and nobody says it, but Obamacare doesn't work, folks. I mean, I could say, I could talk, it doesn't work. And now people are starting to develop a little warm heart, but the people that you're watching, they're not you. They're largely — many of them are the side that lost, you know they lost the election. It's like, how many elections do we have to have? They lost the election. But I always say, Obamacare doesn't work. And these same people two years ago and a year ago were complaining about Obamacare. And the bottom line, we're changing it. We're going to make it much better, we're going to make it less expensive. We're going to make it much better. Obamacare covers very few people — and remember, deduct from the number all of the people that had great health care that they loved that was taken away from them — it was taken away from them. Millions of people were very happy with their health care, they had their doctor, they had their plan. Remember the lie, 28 times. You could keep your doctor, you could keep your plan. Over and over and over again, you heard it. So we're going to repeal and replace Obamacare."said Trump on CPAC event.
Donald Trump accused the pharmaceutical industry of "getting away with murder" and said that he would change the way the country bids on drugs to bring prices and spending down.
"Pharma has a lot of lobbies, a lot of lobbyists and a lot of power. And there's very little bidding on drugs," Trump said during the event at Trump Tower in New York. "We're the largest buyer of drugs in the world, and yet we don't bid properly."
Federal law forbids the government from negotiating with drug companies to bring down the price of drugs for seniors using Medicare.
Ok,this was enough!
These where the first 50 days of Donald J. Trump's presidency and as it seems things are not quite bad as main stream media would like you to think. Not bad at all. Nevertheless we all must be vigilant and street wise. I am not a naive person to think that these things happened without any special interest in the background. No, not at all. Nor should you.
We have two elites and two sides of perception fighting each other for their vision of the future of humanity. Nevertheless we the people are here to decide and our voice is what counts. Remember free will of the people must be respected otherwise you are breaking the universal laws and that is not allowed to happen.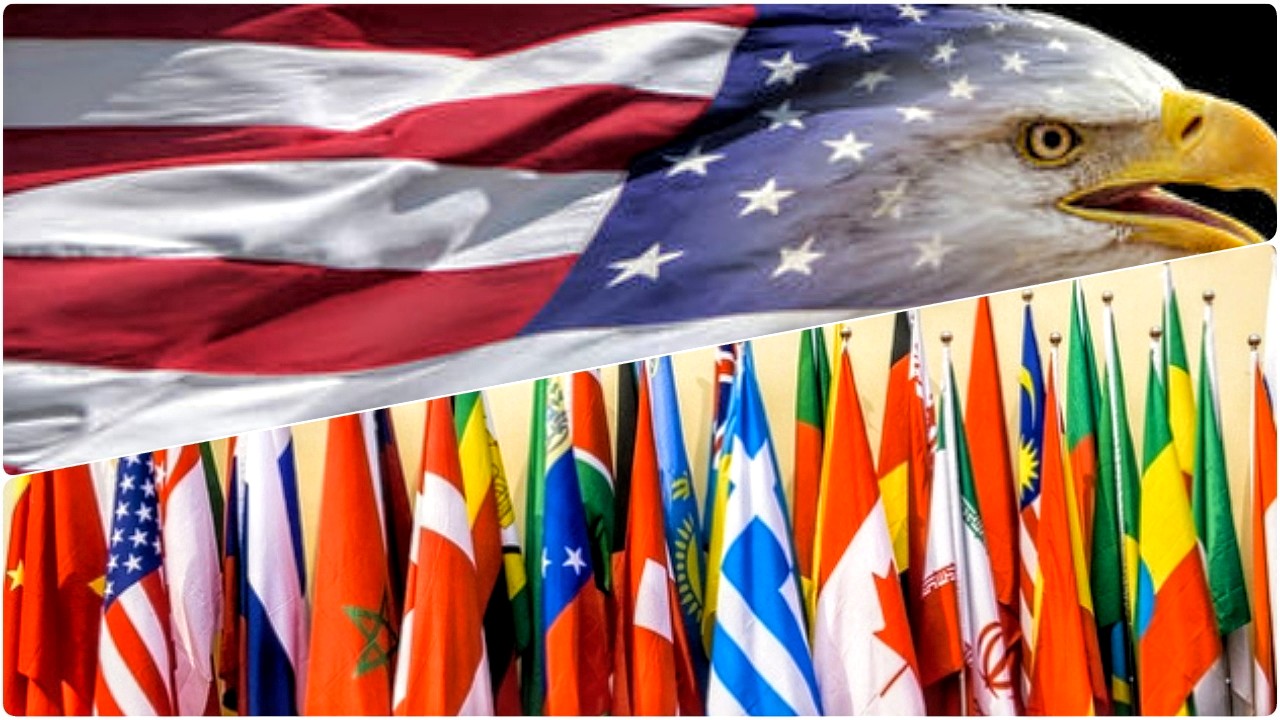 Change in global approach and foreign politics
Trump has stated many times that: "My job is not to represent the world. My job is to represent the United States of America." Nevertheless what has been said, What happens in US it affects us all. Strong United States makes the world stronger too. We are all interconnected in some way. Our economies are deeply connected. Remember what has happened in 2008 when the World Economic crisis broke. Where did it started and where did it end? It all begun in United States of America. What do you think would happen if something like that happens again do you think that the world economy in a state that it is right now would be able to recuperate. NO. Everything would fall apart.
I am not saying that this corrupt system of world Economy should not fail. The liberal concept of Economy is destined to fail as it is proven to be failing all around the world. The liberal concept of economy is killing the humanity bit by bit. It is a death rope on the neck of Human Society. At the same time that Liberal concept is acquiring great wealth to a tiny group of people and corporations at the expense of ordinary people that gave them the permission to do so. Unfortunately people gave them the permission due to media manipulation, fear, blackmail and corruption. Yes the humanity is in danger and it's​ been ruled by almost 1%  of  people and corporations that do not want to share.
So what was your question? Do I want this corrupt system to fail? Yes I want! Yes it should  fail but i chose to see it fail trough change not trough chaos and misery of ordinary people all around the world.
We are going to witness the most important event in the history of our planet. The "old" world order has been dying in front of our eyes and the new one is being born. It is a natural process of human evolution. No one should be afraid nor should be against it. This is the chance for humanity and we all should take part in building our future for generations to come.
The 2016 has been a year of revolution. Revolution of human mind and perception. 2016 was the year when British people have spoken and made a clear and loud choice. They rejected the establishment and elites by voting to exit the European Union. This is the year when people from United States gave their voice for change, for Donald Trump and again the voice against the establishment and the old world order.
Establishment of European Union is out of touch from reality and apparently they are trying to do whatever they can to stop the change to happen as nothing important is happening all around the world. But its impossible to stop it. The Wave has begun. The only chance for European Union to survive this wave is to reorganize it's system to be for the people and by the people, fair, prosperous and for the future. EU will change or will fall. Maybe not this year maybe not next but it will fall eventually if it does not change it's self from it's core and further.
EU had some great ideological starting point that brought us together at first place, but liberal approach to the economy, the rule of stronger over the small one and EU foreign politics have almost destroyed its ideological starting point of equality and togetherness. If decomposition does not happen than some serious reconstruction of EU should be done as soon as possible. Reconstruction regarding: Equality of its member states in front of EU institutions, EU foreign politics, legislation, EU financial and economic approach, rule of justice, security, human rights, scientific research development .etc. If this does not happen now then the next time when the next crisis hits the EU it is going to be something that nobody could stop or avert. If this happens the fall is going to be inevitable. We all must ask our selves; Is EU going the same steps as once "The League of Nations" has walked? Do not forget what happened at that time. The second world war has begun. Do not allow the History to repeat itself.
Serious and systematic changes should be done to the "United Nations" and as soon as possible. UN is the only place that we have representatives from all the countries in the world. UN needs to be reconstructed for every voice and every country to be heard not only big ones. We must stay United in one United cause. "For The betterness of Humanity"
Only from balance we can achieve great things for humanity. We need that balance as soon as possible. We need to see  major players on this world stage (not excluding the small ones) to sit together and to make some hard but meaningful decisions for the future of human society.
This obvious polarization of human society that is happening right now is going to bring us to a chaos and the fall of our own civilization.
Look at the Human History. All great civilizations have fallen when they reached a certain moment in their development. It has happened once before it will happen again. It only depends in which way it will happen. Will the fall happen trough change or trough chaos and agony. This is the last chance to do it right. If this time people are betrayed and all of this was for nothing, just a big hoax and in purposely created "venting hole" for the people  to "vent" their anger. If this is just a hoax to prevent the fall of the system that is destined to fall. If this is just a game a show to convince us all that things are changing but in fact nothing is and that we are just being put to sleep by using different tactics. Then the chaos will eventually happen and the system will fall. Because
"Those who make peaceful revolution impossible will make violent revolution inevitable."
John F. Kennedy
One article from 2014 has crossed my mind
Memo: From Nick Hanauer  to his Fellow Zillionaires
"Seeing where things are headed is the essence of entrepreneurship. And what do I see in our future now? I see pitchforks. At the same time that people like you and me are thriving beyond the dreams of any plutocrats in history, the rest of the country—the 99.99 percent—is lagging far behind. The divide between the haves and have-nots is getting worse really, really fast. In 1980, the top 1 percent controlled about 8 percent of U.S. national income. The bottom 50 percent shared about 18 percent. Today the top 1 percent share about 20 percent; the bottom 50 percent, just 12 percent."
Please visit and read the full article at:
The Pitchforks Are Coming… For Us Plutocrats
So basically everything is connected and what happens in US will affect us all. Lets be objective as much as possible. Do not misunderstood me I do love my country, European countries  and i do not have anything against the United States of America. On the contrary i think that United States is one great country with some great values and opportunities. For everybody that thinks that everything would be OK if USA is brought to its knees there is only one thing that can be said "You are wrong". As we need strong Europe we need strong Russia but we also need strong United States of America. We all need to have balance and balance can only be achieved if no one gets to much power. To much power corrupts and absolute power corrupts more.
This was just an introduction for you to be able to better understand the importance of Trump presidency and to better connect the dots that are laying all around us and in front of our eyes all the time. It is time to understand what is in stake here.
For now Donald J. Trump is not dealing with foreign affairs as we should expect from the US president to do. His primary focus is United States. He is doing just the right thing that every new president should do. First to take care of his own house clean the garbage out and then he will gaze out to see what needs to be done on the World stage. As he once stated "We are going to take care of this country first before we worry about everybody else in the world". Trump wants America to stop being the world's policeman. I must agree with this. Just remember bad things that happened in the past when America had a leading role in being the world policeman. Let just name some of them:
Bad moves and poor judgment in handling global affairs by EU and US made great impact on the world stability and security. Look what has  happened to Ukraine. Once united country has become a divided one. Look what has happened to Libya, once the Muammar Gaddafi has brought down. Not to mention Iraq. Saddam Hussein  was once deemed to be the enemy of terrorism now Iraq is the mecca for terrorism. Refuge crisis – look what has EU politics have done with it (with the great influence of Germany)
Please visit the link for more: REFUGEE CRISIS AND SECURITY CONCERNS – PREPARING THE CHESS BOARD
What has happened to Syria and Syrian conflict , ISIS .etc. We have the worst instability in the middle east region in decades and all because the wrong steeps that were taken by some major player on this world stage. We must except mistakes that we have done and move forward.
Much important United States of America must not allow them self  anymore to support the failing and  corrupt governments all around  the world. The governments that are detached from reality and from the interest of their own people. These governments are just trying to stay in power as much as they can and  shield their wealth taken from those same people that they represent. United States of America must not be a shield for those kind of governments. Nevertheless the national interest. Trump once said: "America is a world leader; America is a beacon light of freedom and hope"
If that is the intention then The light must not be used to shield the darkness. The light is light and others  will chose to go towards that light or to stay into the darkness.
US / Russia reset and mass media involvement 
Russia can not be and must not be seen as enemy of Europe. Russia must be regarded as a friend. Russia is an integral part of Europe. Russia is our great connection between civilizations our bridge between Europe and Asia. Europe can only be strong together with Russia. Otherwise we are being delusional to think differently. There is nothing wrong in alliance between Russia and US on tackling some global issues and not only with Russia but with everyone that can contribute and help.
For example everybody should unite in fight against ISIS –  Russia, USA, EU, Asia but not only them also Muslims must unite because it is their struggle too. They need to defend their religion and believes from radicals that are trying to put a bad name on ISLAM.
In this struggle against Darkens we must never forget the innocent ones, the children, the ordinary people should be taken care first. It is the human thing to do. Empathy and compassion is the only thing that  makes us different from animals and predators.
World should fight this Darkness but side along with  Muslims and Arabs. Not against them. This should not became a war of religions, war of cultures, nations, war of regions, continents, different opinions etc this should be the war against the darkness that IS represents and this should be the the war against the darkness in each one of us.
This time TBU NEWS is not going to talk about things such: who financed the IS, who gives them support, about their goal how they managed to do so much atrocities for so long or for quite short time. How the situation got out the control …TBU NEWS is not going to talk about responsibilities that some countries / corporations  have in all of this it is a topic that is going to be researched in the future …
Nothing bad here right but then why some mass media, people and organizations do everything what they can to stop this and to stop US to even try to repair broken relationship between Russia? Right now we are seeing a vast effort by group of individuals, organisations, corporations and media to do whatever that can be done to stop Trump administration to make even a tiny effort forward to try to repair the broken relationship with Russia.
MASS MEDIA AND WAR ON TRUMP
Just look at CNN, BuzzFeed, BBC, New York Times, Washington Post .etc Look at them. They are constantly competing with each other who will be more successful in bashing of Trump administration.
All the time, All the way.
They are not doing it for purpose to gain some more views or readers. NO, It has been done with more sinister agenda in mind. This article is not meant to be politically correct. TBU NEWS has never and will never be politically correct.
Elections are finished long time ago but the campaign continued and even more.
Some of main topics that are constantly spinned by these networks are:
Russia, Russia hackings, Immigration policies, White House in problems, Cabinet still not fully approved, Human Rights, Freedom of Press, Protests .etc
They are doing it in purpose just to undermine White House administration on every step of the way. But this is not the only reason why they are doing it. They are deliberately making this atmosphere of chaos to eventually persuade people that what Trump is doing and is going to do is bad for the people and for the United States.
Nevertheless the fact that Trump is doing  just what he has promised to do during the election campaign. Nevertheless the fact that he is the president of the United States of America. Nevertheless it was the will of the people.
To put it simply, they are trying to shift peoples opinion and support away from the White House administration. They could be building "media floor" for possible impeachment of Trump and at the same time running a "non stop" campaign in preparing for the next presidential elections in four years.
The only thing that they have forgotten is that they have lost the confidence of people which they are trying to persuade. They will be more then surprised with Trump and its 8 years term in office.
So nothing new right?! We are aware of the methods being used against Trump and White House administration. They are so obvious. Nevertheless , it is very, very important to recognize and to brand  those methods properly. We should never underestimate their influence! 
Earlier this month  The president of the United States of America Donald J. Trump twitted on his Twitter account that his predecessor Barack Obama ordered wiretapping of his phones in Trump tower during the US Presidential elections in 2016. If this is the the case the everything is clear as a day. There was better to say, there is a silent coup in progress against Trump administration and his policies and not only media but many others are involved.
Look at this timeline of events that clearly show that something wrong was happening at that time:
Drawing on sources including the New York Times and the Washington Post, Levin described the case against Obama so far, based on what is already publicly known. The following is an expanded version of that case, including events that Levin did not mention specifically but are important to the overall timeline.
1. JUNE 2016: FISA REQUEST. THE OBAMA ADMINISTRATION FILES A REQUEST WITH THE FOREIGN INTELLIGENCE SURVEILLANCE COURT (FISA) TO MONITOR COMMUNICATIONS INVOLVING DONALD TRUMP AND SEVERAL ADVISERS. THE REQUEST, UNCHARACTERISTICALLY, IS DENIED.
2. JULY: RUSSIA JOKE. WIKILEAKS RELEASES EMAILS FROM THE DEMOCRATIC NATIONAL COMMITTEE THAT SHOW AN EFFORT TO PREVENT SEN. BERNIE SANDERS (I-VT) FROM WINNING THE PRESIDENTIAL NOMINATION. IN A PRESS CONFERENCE, DONALD TRUMP REFERS TO HILLARY CLINTON'S OWN MISSING EMAILS, JOKING: "RUSSIA, IF YOU'RE LISTENING, I HOPE YOU'RE ABLE TO FIND THE 30,000 E-MAILS THAT ARE MISSING." THAT REMARK BECOMES THE BASIS FOR ACCUSATIONS BY CLINTON AND THE MEDIA THAT TRUMP INVITED FURTHER HACKING.
3. OCTOBER: PODESTA EMAILS. IN OCTOBER, WIKILEAKS RELEASES THE EMAILS OF CLINTON CAMPAIGN CHAIR JOHN PODESTA, ROLLING OUT BATCHES EVERY DAY UNTIL THE ELECTION, CREATING NEW MINI-SCANDALS. THE CLINTON CAMPAIGN BLAMES TRUMP AND THE RUSSIANS.
4. OCTOBER: FISA REQUEST. THE OBAMA ADMINISTRATION SUBMITS A NEW, NARROW REQUEST TO THE FISA COURT, NOW FOCUSED ON A COMPUTER SERVER IN TRUMP TOWER SUSPECTED OF LINKS TO RUSSIAN BANKS. NO EVIDENCE IS FOUND — BUT THE WIRETAPS CONTINUE, OSTENSIBLY FOR NATIONAL SECURITY REASONS, ANDREW MCCARTHY AT NATIONAL REVIEW LATER NOTES. THE OBAMA ADMINISTRATION IS NOW MONITORING AN OPPOSING PRESIDENTIAL CAMPAIGN USING THE HIGH-TECH SURVEILLANCE POWERS OF THE FEDERAL INTELLIGENCE SERVICES.
5. JANUARY 2017: BUZZFEED/CNN DOSSIER. BUZZFEED RELEASES, AND CNN REPORTS, A SUPPOSED INTELLIGENCE "DOSSIER" COMPILED BY A FOREIGN FORMER SPY. IT PURPORTS TO SHOW CONTINUOUS CONTACT BETWEEN RUSSIA AND THE TRUMP CAMPAIGN, AND SAYS THAT THE RUSSIANS HAVE COMPROMISING INFORMATION ABOUT TRUMP. NONE OF THE ALLEGATIONS CAN BE VERIFIED AND SOME ARE PROVEN FALSE. SEVERAL MEDIA OUTLETS CLAIM THAT THEY HAD BEEN AWARE OF THE DOSSIER FOR MONTHS AND THAT IT HAD BEEN CIRCULATING IN WASHINGTON.
6. JANUARY: OBAMA EXPANDS NSA SHARING. AS MICHAEL WALSH LATER NOTES, AND AS THE NEW YORK TIMES REPORTS, THE OUTGOING OBAMA ADMINISTRATION "EXPANDED THE POWER OF THE NATIONAL SECURITY AGENCY TO SHARE GLOBALLY INTERCEPTED PERSONAL COMMUNICATIONS WITH THE GOVERNMENT'S 16 OTHER INTELLIGENCE AGENCIES BEFORE APPLYING PRIVACY PROTECTIONS." THE NEW POWERS, AND REDUCED PROTECTIONS, COULD MAKE IT EASIER FOR INTELLIGENCE ON PRIVATE CITIZENS TO BE CIRCULATED IMPROPERLY OR LEAKED.
7. JANUARY: TIMES REPORT. THE NEW YORK TIMES REPORTS, ON THE EVE OF INAUGURATION DAY, THAT SEVERAL AGENCIES — THE FEDERAL BUREAU OF INVESTIGATION (FBI), THE CENTRAL INTELLIGENCE AGENCY (CIA), THE NATIONAL SECURITY AGENCY (NSA) AND THE TREASURY DEPARTMENT ARE MONITORING SEVERAL ASSOCIATES OF THE TRUMP CAMPAIGN SUSPECTED OF RUSSIAN TIES. OTHER NEWS OUTLETS ALSO REPORT THE EXISENTENCE OF "A MULTIAGENCY WORKING GROUP TO COORDINATE INVESTIGATIONS ACROSS THE GOVERNMENT," THOUGH IT IS UNCLEAR HOW THEY FOUND OUT, SINCE THE INVESTIGATIONS WOULD HAVE BEEN SECRET AND INVOLVED CLASSIFIED INFORMATION.
8. FEBRUARY: MIKE FLYNN SCANDAL. REPORTS EMERGE THAT THE FBI INTERCEPTED A CONVERSATION IN 2016 BETWEEN FUTURE NATIONAL SECURITY ADVISER MICHAEL FLYNN — THEN A PRIVATE CITIZEN — AND RUSSIAN AMBASSADOR SERGEY KISLYAK. THE INTERCEPT SUPPOSEDLY WAS  PART OF ROUTINE SPYING ON THE AMBASSADOR, NOT MONITORING OF THE TRUMP CAMPAIGN. THE FBI TRANSCRIPTS REPORTEDLY SHOW THE TWO DISCUSSING OBAMA'S NEWLY-IMPOSED SANCTIONS ON RUSSIA, THOUGH FLYNN EARLIER DENIED DISCUSSING THEM. SALLY YATES, WHOM TRUMP WOULD LATER FIRE AS ACTING ATTORNEY GENERAL FOR INSUBORDINATION, IS INVOLVED IN THE INVESTIGATION. IN THE END, FLYNN RESIGNS OVER HAVING MISLED VICE PRESIDENT MIKE PENCE (PERHAPS INADVERTENTLY) ABOUT THE CONTENT OF THE CONVERSATION.
9. FEBRUARY: TIMES CLAIMS EXTENSIVE RUSSIAN CONTACTS. THE NEW YORK TIMES CITES "FOUR CURRENT AND FORMER AMERICAN OFFICIALS" IN REPORTING THAT THE TRUMP CAMPAIGN HAD "REPEATED CONTACTS WITH SENIOR RUSSIAN INTELLIGENCE OFFICIALS. THE TRUMP CAMPAIGN DENIES THE CLAIMS — AND THE TIMES ADMITS THAT THERE IS "NO EVIDENCE" OF COORDINATION BETWEEN THE CAMPAIGN AND THE RUSSIANS. THE WHITE HOUSE AND SOME CONGRESSIONAL REPUBLICANS BEGIN TO RAISE QUESTIONS ABOUT ILLEGAL INTELLIGENCE LEAKS.
10. MARCH: THE WASHINGTON POST TARGETS JEFF SESSIONS. THE WASHINGTON POST REPORTS THAT ATTORNEY GENERAL JEFF SESSIONS HAD CONTACT TWICE WITH THE RUSSIAN AMBASSADOR DURING THE CAMPAIGN — ONCE AT A HERITAGE FOUNDATION EVENT AND ONCE AT A MEETING IN SESSIONS'S SENATE OFFICE. THE POST SUGGESTS THAT THE TWO MEETINGS CONTRADICT SESSIONS'S TESTIMONY AT HIS CONFIRMATION HEARINGS THAT HE HAD NO CONTACTS WITH THE RUSSIANS, THOUGH IN CONTEXT (NOT PRESENTED BY THE POST) IT WAS CLEAR HE MEANT IN HIS CAPACITY AS A CAMPAIGN SURROGATE, AND THAT HE WAS RESPONDING TO CLAIMS IN THE "DOSSIER" OF ONGOING CONTACTS. THE NEW YORK TIMES, IN COVERING THE STORY, ADDS THAT THE OBAMA WHITE HOUSE "RUSHED TO PRESERVE" INTELLIGENCE RELATED TO ALLEGED RUSSIAN LINKS WITH THE TRUMP CAMPAIGN. BY "PRESERVE" IT REALLY MEANS "DISSEMINATE": OFFICIALS SPREAD EVIDENCE THROUGHOUT OTHER GOVERNMENT AGENCIES "TO LEAVE A CLEAR TRAIL OF INTELLIGENCE FOR GOVERNMENT INVESTIGATORS" AND PERHAPS THE MEDIA AS WELL.
IN SUMMARY: THE OBAMA ADMINISTRATION SOUGHT, AND EVENTUALLY OBTAINED, AUTHORIZATION TO EAVESDROP ON THE TRUMP CAMPAIGN; CONTINUED MONITORING THE TRUMP TEAM EVEN WHEN NO EVIDENCE OF WRONGDOING WAS FOUND; THEN RELAXED THE NSA RULES TO ALLOW EVIDENCE TO BE SHARED WIDELY WITHIN THE GOVERNMENT…
When the President of the United States says that he will not stop twitting and using social networks to spread his word due to unfair and fake reporting of mass media it is not a joke people it is serious stuff. For god sake, The president of the United States sad this and we can not see clearly what is happening. The situation is clear as a sunny day, There is an open war against Trump. But as time is showing us the silent coup is failing more and more each day that passes by due to people not falling on it.
So basically this is it. The World as it is now, everything  interconnected. We are on cross roads we have a chance for Human Society that should not and  must not be dropped. But we must be vigilant and street wise because sometimes
All that glitters is not gold
Written by Founder of TBU NEWS Zeljko Mihajlovic
(Please understand that founders native language is not English. We believe that this will not diminish the importance and relevance of this article)
BEST REGARDS
TBU NEWS