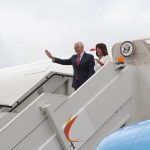 Vice President of The United States Mike Pence has arrived in Tallinn, Estonia with his wife Karen to meet with leaders of Baltic States on security & prosperity. Pence was greeted by U.S. ambassador to Estonia James D. Melville and Estonian Minister of Foreign Affairs Sven Mikser.
VP Pence will with Prime Minister of Estonia Juri Ratas, Estonian Foreign Minister Sven Mikser and Defence Minister Juri Luik. During the trip, Pence reportedly aims to demonstrate America's support to its NATO allies in the Baltic region. The deployment of Patriot missile systems in Estonia was also a topic at the meeting, although there is as yet no specific date for such a deployment.
Later on Vice President Pence gave an interview for FOX stating that United States President Donald J. Trump Is expected to sign new Legislation to impose broad sanctions against Russia and added:
"Russia's destabilizing activities, its support for rogue regimes, its activities in Ukraine, are unacceptable.".."The president and I remain very hopeful that we'll see different behaviour by the Russian government, with regard to Ukraine, with regard to supporting rogue regimes in Iran and North Korea," Pence said. "We continue to believe that if Russia will change its behavior, our relationship can change for the good and improve for the interests in both of our countries and the interest of peace and stability in this region and around the world."
Source: Ruptly, FOX, WH
---
Earlier Russia's Deputy Foreign Minister Sergei Ryabkov said that US Senate vote to impose new sanctions on Russia was "the last drop"…Ryabkov also commented on the latest Russian decision to expel 755 U.S. diplomats and technical personnel in response to new U.S. sanctions against Moscow:
"This retaliation is long, long overdue. You remember that the previous administration of the US, the Obama administration, expelled Russian diplomats on December 29 last year and deprived us of our property.
During the Trump administration nothing happened towards changing this situation, which is completely unacceptable to us. And I should say that after the [US] Senate voted, on July 27, so overwhelmingly on a completely weird and unacceptable piece of legislation, it was the last drop that made all of this happen.
Every single step which people on The Hill in particular take to make our lives more difficult, brings us closer to the moment when we will develop all sorts of alternatives to the US financial system, to the dollar reserve currency system, dollar-based reserve currency system, to all sorts of areas where the whole world, and not just Russia, is dependent on very frivolous action on the part of the US."
---
During his official visit to Estonia US Vice President Mike Pence will also take part in a round table discussion on cyber technology and innovation with President of Estonia Kersti Kaljulaid.
Best Regards
TBU NEWS