United States president Donald J.Trump and his Russian counterpart Vladimir Putin are the main stars of  this year G20 summit in Hamburg, Germany. The First meting between two leaders has been held yesterday and it was 2 hours long. Two leaders spoke about many pressing issues and as a result US, Russia and other countries involved in the middle east region have reached a ceasefire deal for Southwest Syria.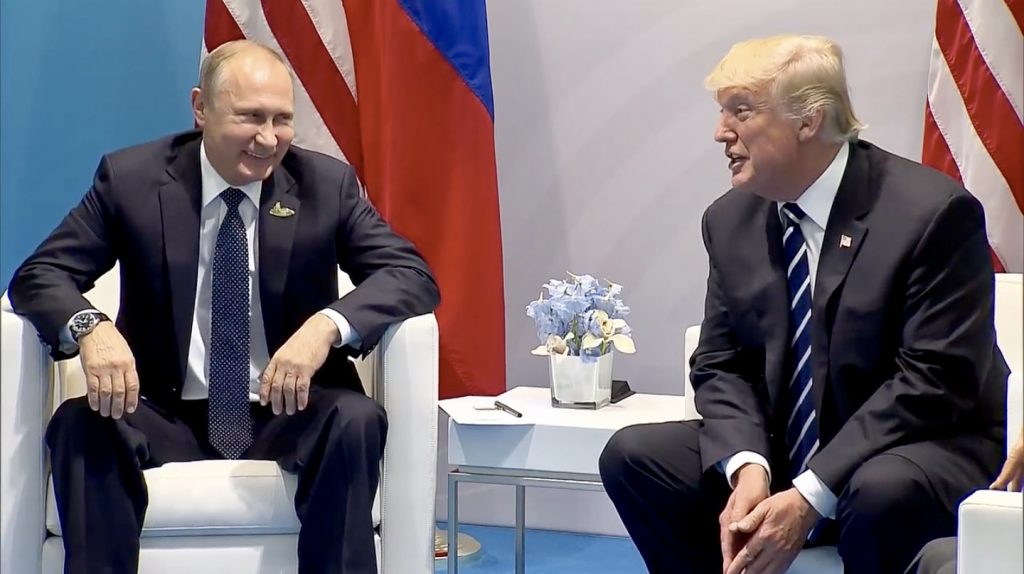 AFTER THE MEETING WITH US PRESIDENT DONALD TRUMP RUSSIAN PRESIDENT VLADIMIR PUTIN HAVE TOLD TO MEDIA:
"WE'VE HAD A VERY LONG DISCUSSION WITH THE US PRESIDENT. MANY ISSUES ACCRUED, INCLUDING UKRAINE, SYRIA AND OTHER PROBLEMS, AS WELL AS SOME BILATERAL ISSUES," PUTIN SAID. "FIGHTING TERRORISM, CYBER SECURITY" WERE ALSO ON THE TABLE, THE RUSSIAN PRESIDENT ADDED.
American President Donald J. Trump also stated that the meeting with Russian president Vladimir Putin was a "TREMENDOUS METING"
G20 FULL COVERAGE ( RETROSPECTIVE ) – DAY 1
Secretary of State Rex Tillerson said that President Donald Trump opened his meeting with Russian President Vladimir Putin by raising concerns about alleged Russian interference in the 2016 presidential election during their more than two-hour meeting.
Russian president has firmly denied any involvement of Russia in democratic processes of United States of America.
"Tillerson says he thinks the president "is rightly focused on how do we move forward from something that may be an intractable disagreement at this point." " Tillerson said.
Russia's Foreign Minister Sergey Lavrov implied the topic was brief and not contentious.
"U.S. President Trump said that he heard firm assertions from Russian President Putin that it is not true and that Russian authorities have not meddled in the elections," Lavrov said. "[Trump] said that he accepts these assertions. That's it."
This was a good starting point for two countries. Many positive results may come out of it. The cooperation between Russia and United States has to continue. The relationship between two countries needs to be wider and further then ever before. Only by working together we can achive stability and prosperity for generations to come! – TBU NEWS
For more details about the meeting please wisit the link below:
FULL COVERAGE – Trump Putin meeting at G20 – Hamburg, Germany
TBU NEWS