What to expect from Trump Putin meeting at G20 ?! Are we finally going to see some progress towards mutual understanding and respect?! Are we finally going to se two big nations US and Russia to try to put aside their differences and come together in one joint effort to try to make things better for humanity itself or we are going to see just more of the same?
US president Donald J. Trump has already met the leaders of several world countries, but this is going to be his first official meeting with the Russian President Vladimir Putin , six months after Trump's inauguration.
– 12:05 pm CEST – United States president Donald Trump and his Russian counterpart Vladimir Putin shook hands for the first time before their meeting in Hamburg. Syria, and North Korea are among the list of potential meeting subjects…Kremlin confirmed.
Warm welcome between US president Trump and Russian counterpart Putin at the G20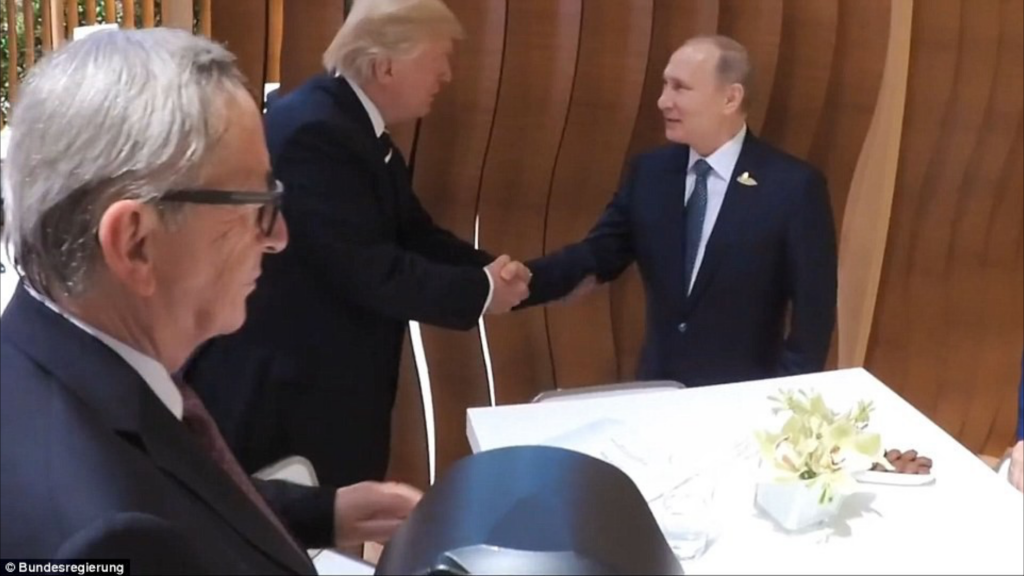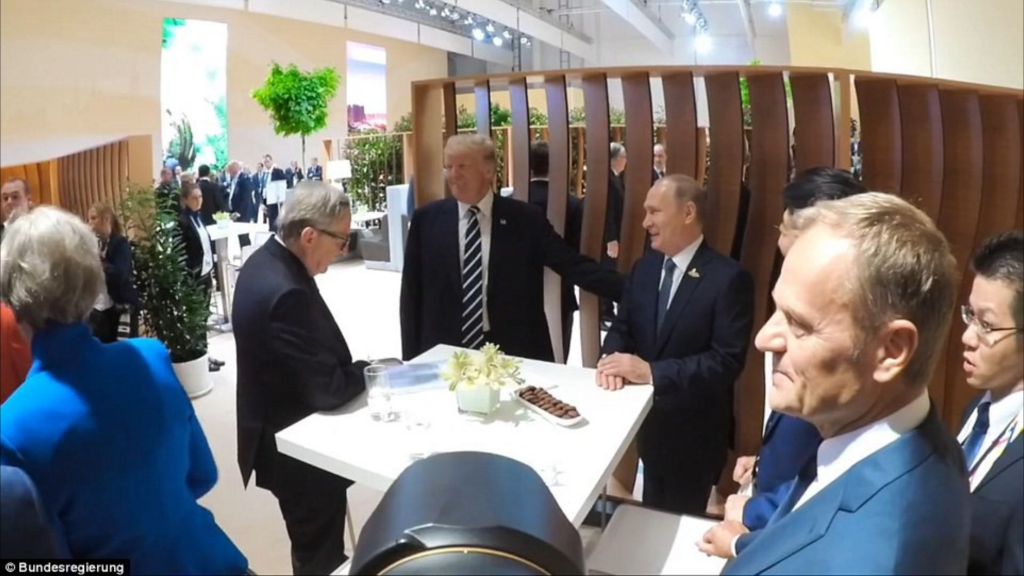 Confirmation of a the upcoming meeting has came from Kremlin Spokesperson Dmitry Peskov who told reporters: "They shook hands and said that soon they will hold a separate meeting, that they will see each other soon,"
"This meeting is really important, with everyone looking forward to it. The presidents held four telephone conversations, but this, of course, is not enough given that bilateral relations are now in fact at a zero point," he said, adding that the meeting is "of paramount importance" to improving bilateral ties and ensuring international security. Russian presidential aide Yury Ushakov told reporters.
According to unofficial report U.S. Secretary of State Rex Tillerson and Russian Foreign Minister Sergey Lavrov will attend the meeting between two presidents.
– Earlier today United States President Donald Trump confirmed the meeting with Russian president on his twitter account: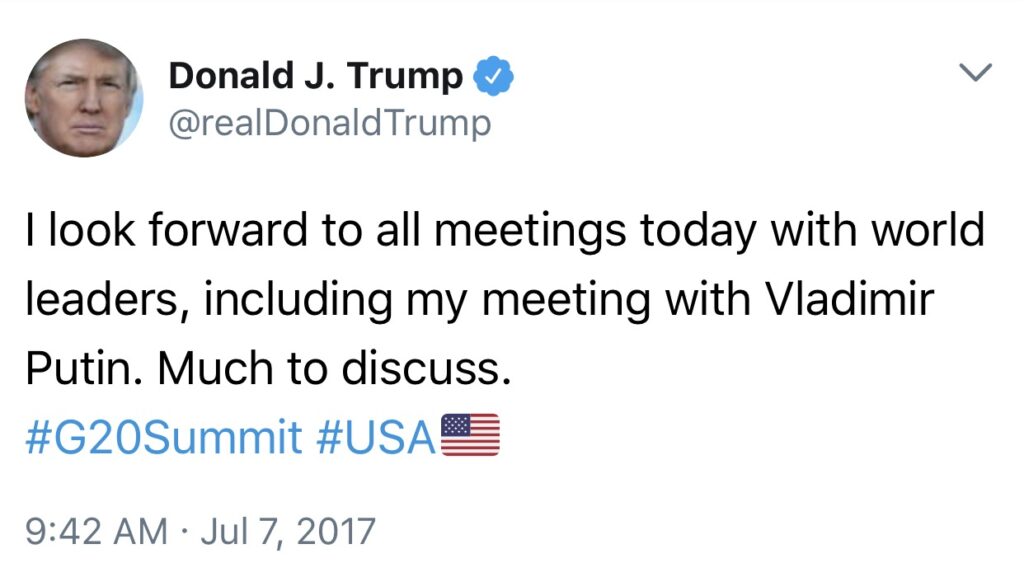 – Earlier today Russian president Vladimir Putin gave speach at the Meeting of BRICS countries on the sidelines of G20 meeting and said – "We oppose the growing protectionism in the world. Illegitimate trade and financial restrictions with obvious political implication are aimed at eliminating competitors. It curtails business ties, results in a loss of trust between economic participants. It is tearing apart the very fabric of the world economy,"
Russian president also sent a important message and called on the Group of 20 nations to create a "united antiterrorist front" with the UN playing a central role.
US State DepartmenUS Secretary of State Rex Tillerson said that Washington is ready "to explore the possibility of establishing with Russia joint mechanisms for ensuring stability, including no-fly zones."
In response, Russian Foreign Minister Sergey Lavrov said Moscow is awaiting clarification on the no-fly zones mentioned by Tillerson.
LATEST NEWS 16:00pm CEST – United States president Donald Trump and Russian President Vladimir Putin are holding a much-anticipated first meeting on the sidelines of the G20 summit in Germany. Two presidents are discussing crises in Syria and Ukraine as well as joint anti-terrorism efforts and North Korea among other pressing issues. Expectations from the first official meeting between the two presidents are very high. Moscow has already stated that the two presidents working dialogue is "likely vital for the whole world."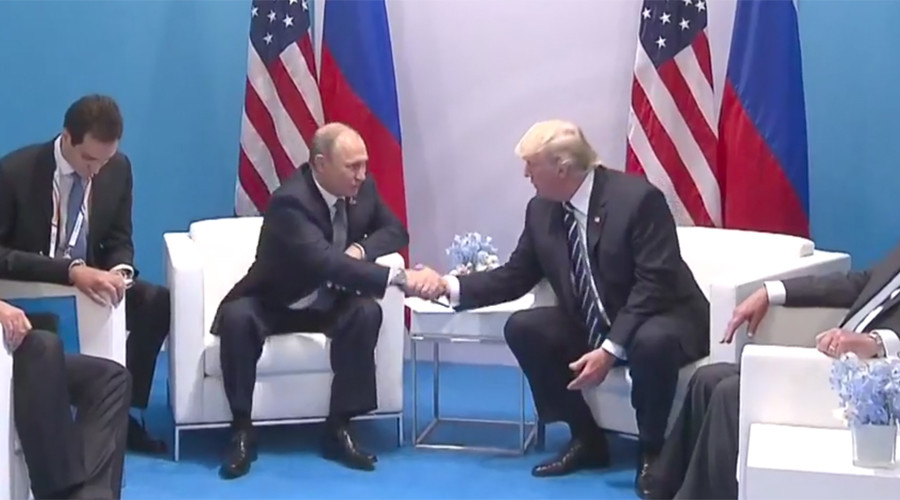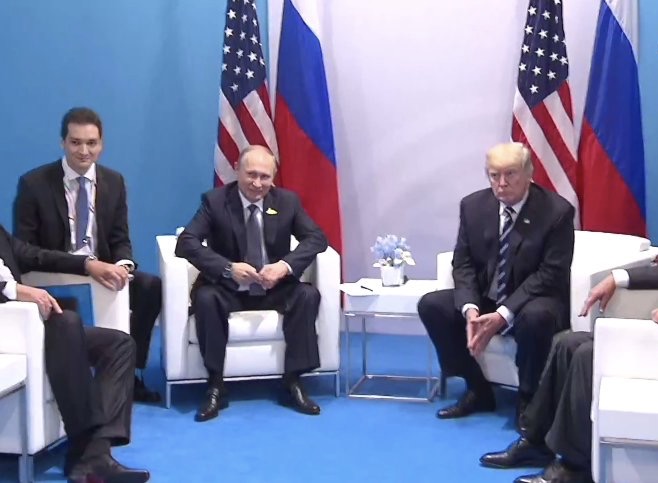 US president Donald J. Trump: "President Putin and I have been discussing various things, and I think it's going very well," Trump told the media…"We've had some very, very good talks, we are gonna have a talk now and obviously that will continue," Trump added, that there are hopes "to a lot of very positive things happening."…"It's an honor to be with you, thank you," Trump concluded, offering his hand to Putin for a handshake.
Russian president Vladimir Putin:"We have talked several times over the phone, including on some very important bilateral and international issues," phone talks were "obviously not enough."
Meetings in person are "necessary" if the two countries want to resolve the "most pressing issues," Putin told media.
The meeting between two leaders of Russia and United States was almost 2 hours long.
LATEST NEWS – US, Russia and other countries involved in the middle east region have reached a ceasefire deal for Southwest Syria, a US official revealed after the meeting between Russian President Vladimir Putin and American president Donald Trump.
After the meeting with US president Donald Trump Russian president Vladimir Putin have told to media:

"We've had a very long discussion with the US president. Many issues accrued, including Ukraine, Syria and other problems, as well as some bilateral issues," Putin said. "Fighting terrorism, cyber security" were also on the table, the Russian president added.
President Donald Trump opened his meeting with Russian President Vladimir Putin by raising concerns about Russian interference in the 2016 presidential election.
After the meeting Secretary of State Rex Tillerson tells reporters that Trump pressed Putin on the issue during their more than two-hour meeting on the sidelines of a summit of world leaders in Germany.
Tillerson says Putin denied any involvement during his more than two-hour meeting with Trump.
Tillerson says he thinks the president "is rightly focused on how do we move forward from something that may be an intractable disagreement at this point." – Source AP
Earlier in May 2017 Presidents Trump Putin and Erdogan agreed on De-escalation zones in Syria

At the same time United States Secretary of State Rex stated that: "Time has come to stabilise relations with Russia –
During the election campaign for the President of the United States Donal J. Trump repeatedly pointed the significance of establishing better relations with Russia and resuming a dialogue.
Please look at the statement that United States president Trump made after he got elected as it seems nothing has changed and he still thinks that good relationship between US and Russia can just benefit us all:
During and after US presidential elections there where many controversies surrounding Trump administration and official Kremlin. These allegations where mainly constructed by American mainstream media to undermine newly elected administration.
Part of Elite and Intelligence Agencies with Media "leading the charge" are in total collusion to overthrow Trump Administration
CNN, BuzzFeed, BBC, New York Times, Washington Post. Just look at their reports. They are constantly competing with each other who will be more successful in bashing of Trump's administration. All the time all the way. Elections are finished long time ago but the campaign continued and even more.
Let's name some of the main topics that are constantly spinned by these networks:
Russia, Russia hackings, Immigration policies, White House in problems, Human Rights, Freedom of Press, Protests .etc
They are doing it in purpose just to undermine White House administration on every step of the way. But this is not the only reason why they were doing it. They were deliberately making this atmosphere of chaos to eventually persuade people that what Trump is doing and is going to do is bad for the people and for the United States of America.
Even though official Moscow firmly denied any allegations of Russia meddling with US presidential elections in 2016 fabrication of false news coverages continued.
Look at the video where Russian President Vladimir Putin firmly denies any Russian involvement in US presidential elections:
Look at the testimony of Dan Coats, Director of Intelligence who denies White House pressure over Russia investigation
"In my time of service, which is interacting with the President of the United States or anybody in his Administration, I have never been pressured, I have never felt pressure to intervene or interfere in any way with shaping intelligence in a political way or in relationship to an ongoing investigation."
Best Regards
TBU NEWS