Just moments ago on his twitter account United States President Donald J. Trump has called upon ease on relationship with Russia. This latest move by US President Trump may be regarded as good stepping stone towards better cooperation and mutual understanding between Russia and United States.
After very successful meeting held between two leaders at G20 summit in Hamburg, Germany two days ago situation has started to move in a positive direction. Many important bilateral issues where discussed  Syria, cyber security where among many others important and pressing subjects during the 2 hours long meeting.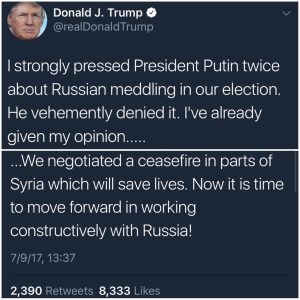 US President Donald J. Trump stated on his twitter account:
"I strongly pressed President Putin twice about Russian meddling in our election. He vehemently denied it. I've already given my opinion…….We negotiated a ceasefire in parts of Syria which will save lives. Now it is time to move forward in working constructively with Russia!..Putin & I discussed forming an impenetrable Cyber Security unit so that election hacking, & many other negative things, will be guarded and safe… Sanctions were not discussed at my meeting with President Putin. Nothing will be done until the Ukrainian & Syrian problems are solved!"… Trump twitted on his account.
Earlier Russian president Vladimir Putin stated  : "We have talked several times over the phone, including on some very important bilateral and international issues," phone talks were "obviously not enough." Meetings in person are "necessary" if the two countries want to resolve the "most pressing issues,"
Putin also firmly denied any Russian involvement in US elections during the meeting: "He [Trump] asked many questions on that subject. I answered those questions as best I could. I think he took it into consideration and agreed with me, but you should really ask him how he feels about it,"…"I think that if we continue building our relations like during our conversation yesterday, there are grounds to believe that we'll be able to – at least partially – restore the level of cooperation that we need," Putin told to media.
Trump Administration has managed to achieve enough to be very optimistic about future dealings with Moscow. During the meeting with his Russian counterpart Vladimir Putin an important decision has been made;
US, Russia and other countries involved in the middle east region have reached a ceasefire deal for Southwest Syria.
Quite a jack pot for newly formed White House administration and its newly elected president. Many where doubtful about president Trumps ability to lead foreign policies in the best interest of the United States. But as always Trump did not fail and he managed to proved them wrong. US president Donald J. Trump has not worked only in best interest of United States but he acted in best interest of the whole world. Good relationship that comes from mutual understanding and respect between Super powers like Russia and United States can only benefit us all. Only by working together we can achieve stability and prosperity for generations to come! – TBU NEWS
US President Trump has also twitted about alleged  Russia involvement in US elections: "Questions were asked about why the CIA & FBI had to ask the DNC 13 times for their SERVER, and were rejected, still don't…….have it. Fake News said 17 intel agencies when actually 4 (had to apologize). Why did Obama do NOTHING when he had info before election?"
During and after US presidential elections there where many controversies surrounding Trump administration and official Kremlin. These allegations where mainly constructed by American mainstream media to undermine newly elected administration.
Part of Elite and Intelligence Agencies with Media "leading the charge" are in total collusion to overthrow Trump Administration
CNN, BuzzFeed, BBC, New York Times, Washington Post. Just look at their reports. They are constantly competing with each other who will be more successful in bashing of Trump's administration. All the time all the way. Elections are finished long time ago but the campaign continued and even more.
Let's name some of the main topics that are constantly spinned by these networks:
Russia, Russia hackings, Immigration policies, White House in problems, Human Rights, Freedom of Press, Protests .etc
They are doing it in purpose just to undermine White House administration on every step of the way. But this is not the only reason why they were doing it. They were deliberately making this atmosphere of chaos to eventually persuade people that what Trump is doing and is going to do is bad for the people and for the United States of America.
Even though official Moscow firmly denied any allegations of Russia meddling with US presidential elections in 2016 fabrication of false news coverages continued.
Look at the video where Russian President Vladimir Putin firmly denies any Russian involvement in US presidential elections:
Source and credit to: NBC, Ruptly
Look at the testimony of Dan Coats, Director of Intelligence who denies White House pressure over Russia investigation
"In my time of service, which is interacting with the President of the United States or anybody in his Administration, I have never been pressured, I have never felt pressure to intervene or interfere in any way with shaping intelligence in a political way or in relationship to an ongoing investigation."
For more details about the meeting and G20 summit please visit the links below:
FULL COVERAGE – Trump Putin meeting at G20 – Hamburg, Germany
Best Regards
TBU NEWS