Tensions on North Korean Peninsula are constantly rising. Situation has never been more serious since Cuban Missile Crisis from October of 1962.
The Hawaii Emergency Management Center has begun the first phase of their Nuclear Preparedness protocol, as part of a contingency plan in light of nuclear tensions between the US and North Korea.
The agency's executive officer Toby Clairmont explained in Honolulu on Friday how the centre is preparing the local population during this first phase, which consists of studying how to educate the population without creating a sense of fear. "The first phase is to improve our warning and notification. In other words, detecting that something has happened and warning the public," Clairmont stated.
Source: Facebook TBU NEWS / Ruptly
Hawaii is the first US state to prepare for a possible nuclear attack, having begun preparations around seven months ago. Clairmont outlined the island's response timeframe, saying: "an ICBM launched from North Korea would take around 20 minutes to make impact in Hawaii. About five minutes into that time the US military would be able to tell us that a missile has been launched and has the potential of hitting Hawaii." He explained, "that give us 15 minutes to get the word out to the public, for the public to take immediate action."
The agency is located inside a 1915 bunker in Honolulu, in a crater known as the Diamond Crater and is part of a network of bunkers still in use by the US military.
Meanwhile the US President Donald J. Trump said that North Korean leader Kim Jong-un he would "truly regret" making overt threats to the United States or its allies, speaking in a press briefing in Bedminster, New Jersey, Friday.
"If he utters one breath in the format of an overt threat, which he has by the way been uttering for years, or if he does anything with respect to Guam, or any place else that's an American territory or an American ally, he will truly regret it and he will regret it fast…I think it's pretty obvious." Trump continued on diplomatic efforts to calm down the situation "We are looking at that very carefully and I hope that they are going to fully understand the gravity of what I said. And what I said is what I mean. So hopefully they'll understand, Peter, exactly what I said and the meaning of those words. Those words are very, very easy to understand."
Source: Ruptly, White House
The US leader also commented on German Chancellor Angela Merkel's statement that military action is not the solution to tensions with North Korea saying,"Well, I think maybe she's speaking for Germany, let her speak for Germany. She's a friend of mine, she's a very good person, very good woman, a friend of Ivanka. Perhaps she's referring to Germany, she's certainly not referring to the United States that I can tell you."
Earlier on Friday, Trump tweeted that Us military is "fully in place, locked and loaded, should North Korea act unwisely."
Trump: "Military solutions are now fully in place,locked and loaded, should North Korea act unwisely. Hopefully Kim Jong Un will find another path!"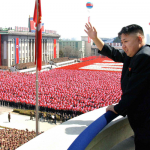 Situation got worst when Pyongyang regime said that it will launch four missiles into waters '30-40km' off US territory in Pacific Ocean.
"The Hwasong-12 rockets to be launched by the KPA [Korean People's Army] will cross the sky above Shimani, Hiroshima and Koichi prefectures of Japan," the statement said. "They will fly for 3,356.7 km for 1,065 seconds and hit the waters 30 to 40km away from Guam."
The statement said the plan for this show of force would be ready by the middle of this month and then await orders from the commander-in-chief, Kim Jong-un.
According to some unofficial reports North Korea has taken a major step toward its goal of becoming a nuclear power by miniaturizing a nuclear warhead capable to be placed on their missiles.
On the other side Russia is calling for quick deescalation between US and North Korea with "double freeze".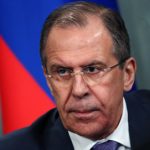 Russian Foreign Minister Sergei Lavrov criticised the escalating rhetoric from both sides in the US-North Korea dispute during a Q&A session at 'the Territory of Meanings' All-Russian Youth Educational Forum in the village of Dvoriki near Moscow, Friday.
Lavrov said that "Unfortunately, rhetoric in Washington and Pyongyang is beginning to go off the scale. We still hope, we expect that common sense will prevail."
"There are direct threats to use force," he said. "Yes, this will involve a huge number of human casualties, and yet the conversation is that it is necessary to strike a preventive blow against North Korea, talk from Pyongyang is that it is necessary to strike the island of Guam, the American military base, they are not stopping."
He added that Russia and China among other countries had offered "a very sensible plan that involves a double freeze. Kim Jong-un freezes any nuclear tests and any missile launches, ballistic missiles I mean. And the United States and South Korea freeze large-scale military exercises."
On 6th of July 2017 UN Security Council unanimously (with votes of Russia and China) approved new sanctions against N. Korea following the North Korea's latest missile tests.
Situation on Korean Peninsula is getting quite serious
If an attack warning is issued, Guam residents should take cover quickly — in a concrete structure, preferably underground — and stay there until instructed otherwise, according to a fact sheet titled "Preparing for an Imminent Missile Threat."
Guam's Office of Civil Defense began disseminating fact sheets Friday to help residents prepare for a missile attack from North Korea. The guidance also includes tips on building an emergency kit and reminders about keeping calm.
 "Do not look at the flash or fireball — it can blind you," the missile threat prep fact sheet advises those who are caught outside. "Lie flat on the ground and cover your head."
The flyer also offers guidance on removing radioactive material: "When possible, take a shower with lots of soap and water to help remove radioactive contamination." But don't scratch or scrub skin and "do not use conditioner in your hair because it will bind radioactive material to your hair."
Japanese municipalities are also growing active in holding missile evacuation drills amid the increasing threat from North Korea.
The Akita Prefecture city of Oga carried out a civilian evacuation drill in March to prepare for a possible North Korean missile, becoming the first municipality to hold such an exercise.
Other municipalities have followed. The number will rise to 12 on Aug. 30, when Wajima in Ishikawa Prefecture conducts a drill.
A North Korean missile could reach Japan in as little as seven to eight minutes.
The central government says it will increase communications with cities via the J-Alert system, which delivers emergency information promptly…Source: Japan Times
If this situation goes out of hands Darkness will envelope the Korean Peninsula and the Humanity itself. We all need to take a step back for a moment, think about it with clear and cool heads. What will full scale war on North Korean Peninsula mean and do to the people of that region?! What can a nuclear confrontation (of wide proportions) do to Humanity itself?!
Lets just Think about it, We should all think about it?!
(Balance made in wrong way – The Weapon that should never have been invented a Weapon that we never should use. – This video is a CGI recreation of the real event that happened on October 30 of 1961 – On that day Soviet Union had tested the largest thermonuclear device in the World called Tsar Bomba)
This situation must be resolved ass soon as possible but on the other hand North Korea has crossed every line that can be crossed. It must not be allowed one country to threaten the humanity with Nuclear Weapons. You can not keep humanity a hostage with constant threats of Nuclear annihilation.
TBU NEWS