Latest Update:
Hurricane Irma  weakens to category type 1 storm, but surge threat remains a significant danger.
Hurricane Irma maximum sustained winds have dropped to near 75mph  – Source: National Hurricane Center
Earlier:
United States President Donald J. Trump has approved a major disaster declaration for Hurricane Irma in Florida, just hours after Gov. Rick Scott has requested it.
---
The major disaster declaration authorizes 100 percent federal reimbursement for 30 days in all counties for emergency protective measures, such as the costs of running emergency operation centers, hurricane shelters and related expenses. After the initial 30-day period, the federal government will reimburse 75 percent of those costs, including counties' costs for debris removal.
The declaration also authorizes direct federal financial aid to nine counties: Miami-Dade, Monroe, Charlotte, Collier, Hillsborough, Lee, Manatee, Pinellas and Sarasota. Source: miamiherald.com
Hurricane #Irma trough the eyes of Floridians – #hurricaneirma2017 #HuricaneIrma pic.twitter.com/wLfKsmFBoc

— TBU NEWS (@TBUNEWS) September 11, 2017
Hurricane Irma has dropped  to Category type 2 hurricane as it hits Naples, Florida.
Storm surges are expected after the eye passes. More than 2.5 million customers have lost electric power in Florida with Hurricane Irma striking the state.
Florida Power & Light reported these numbers on Sunday afternoon. The utility, which services much of south Florida, says more than 845,000 of those customers are in Miami-Dade County. Duke Energy, the dominant utility in the northern half of Florida, has about 13,000 outages with the outer bands of Irma sweeping across the region.
The power companies said that they have extra crews on hand to try to restore power – when it becomes safe to do so.
Florida's coastal and southern areas have been evacuated since last week with a record of 6.5 million people leaving their homes.
– The President of The United States Donald J. Trump has said that he will visit Florida in the near future as the state was being "under attack" by Hurricane Irma. Trump said…
"We're going to Florida very soon, …It's going to play out over the next five or six hours. I'm going in now for meetings, but it's all about coordination. I think we're really well coordinated, as well as you can possibly be…The bad news is that this is some big monster, but I think we're really well coordinated,..It's just about the biggest ever recorded that hit land, and unfortunately we got it. We may have been a little bit lucky in that it went on the west, and may not have been quite as destructive, but we're going to see," Trump concluded.
01:25 pm Miami, Fl time (utc-4)
More than 1 million people in state of Florida has lost power as Hurricane Irma  Category type 4 landed over  the state of FL, officials told to reporters….
Miami Under Water – Take a look at the downtown Miami, Florida United States –
BREAKING -More than 1 million people in state of Florida has lost power as Hurricane #Irma hits the state #hurricane pic.twitter.com/rqW1oA8EVH

— TBU NEWS (@TBUNEWS) September 10, 2017
8:25 am Miami, Fl time (utc-4)
BREAKING – Hurricane IRMA hits Florida – Location: South side of Miami river – pic.twitter.com/z7BXCcTIOE

— TBU NEWS (@TBUNEWS) September 10, 2017
7:26 am Miami, Fl time (utc-4) – Hurricane Irma's Eyewall gaze at Florida Keys As It Moves Toward The Mainland. The National Weather Service in Key West issued an "extreme wind warning" shortly after 6 a.m., which was "associated with the eyewall" of the hurricane as it moved into the Florida Keys.
"This is an extremely dangerous and life-threatening situation!" the NWS told to public / Source – npr.org
NORTHERN EYEWALL OF HURRICANE #IRMA REACHES THE LOWER FLORIDA KEYS. EYE IS 15 MILES SOUTHEAST OF KEY WEST. https://t.co/pyUyGir4z6

— NHC Atlantic Ops (@NHC_Atlantic) September 10, 2017
Street flooding in Miami – pic.twitter.com/jdETBPzM0K

— TBU NEWS (@TBUNEWS) September 10, 2017
Hurricane IRMA over Florida pic.twitter.com/oOkv8PPREf

— TBU NEWS (@TBUNEWS) September 10, 2017
Hurricane Irma Category type 4 is approaching the state of Florida. A hurricane-force wind gust was recorded in the Florida Keys late Saturday night — the first sign of deadly Hurricane Irma's impending landfall on the U.S. mainland. The edge of Hurricane Irma kicked up surf, whipped up palm trees and spun up at least one confirmed tornado as it approached landfall in Florida Saturday evening.
Florida is going to be struck by the 'most catastrophic storm' it has ever seen. Hurricane Irma is bringing tornadoes, a 15ft sea surge, flooding and 130mph winds.
In the last few hours, Irma has strengthened from type 3 to a Category type 4 hurricane as it closed in on the island chain known as the Florida Keys, stated by the US National Hurricane Center.
More than 280,000 homes lost electric power in the state of Florida, a majority of them in Monroe County, where Key West is, and Miami-Dade County.
Earlier:
Federal Emergency Management Agency (Florida's Division) has instructed an evacuation, a mix of mandatory and voluntary evacuation orders to almost 7 million residents.The president of the United States Donald J. Trump has called Floridians to evacuate and to follow government instructions.
"PROPERTY IS REPLACEABLE, BUT LIVES ARE NOT – SAFETY MUST COME FIRST!"
President Donald J. Trump also stated that Hurricane Irma is a storm of enormous destructive power, and he aksed everyone in the storm's path to heed all instructions from government officials. Watch the video bellow:
This is a storm of enormous destructive power, and I ask everyone in the storm's path to heed ALL instructions from government officials. pic.twitter.com/nJfM2Sdme1

— Donald J. Trump (@realDonaldTrump) September 9, 2017
Florida Governor Rick Scot also called the residents of Florida ti take any precaution necessary and to evacuate.
''IF YOU ARE PLANNING TO LEAVE AND DO NOT LEAVE TONIGHT, YOU WILL HAVE TO RIDE OUT THIS EXTREMELY DANGEROUS STORM AT YOUR OWN RISK,'' FLORIDA GOV. RICK SCOTT STATED –  HE URGED EVERYBODY IN THE KEYS TO GET OUT AND EVACUATE…"YOU NEED TO LEAVE — NOT TONIGHT, NOT IN AN HOUR, RIGHT NOW," SCOTT SAID AT NEWS CONFERENCE. "THIS IS THE MOST CATASTROPHIC STORM THE STATE HAS EVER SEEN….WE CAN REBUILD YOUR HOME, BUT WE CANNOT REBUILD YOUR LIFE,"
Watch the video bellow:
Curfews are being issued across South Florida as state is preparing to be hit by Hurricane Irma.
Lines of traffic were seen on interstate highways, on Friday, as Floridians began to exit the state en masse, in anticipation of Hurricane Irma. Drone footage captured the scale of the exodus.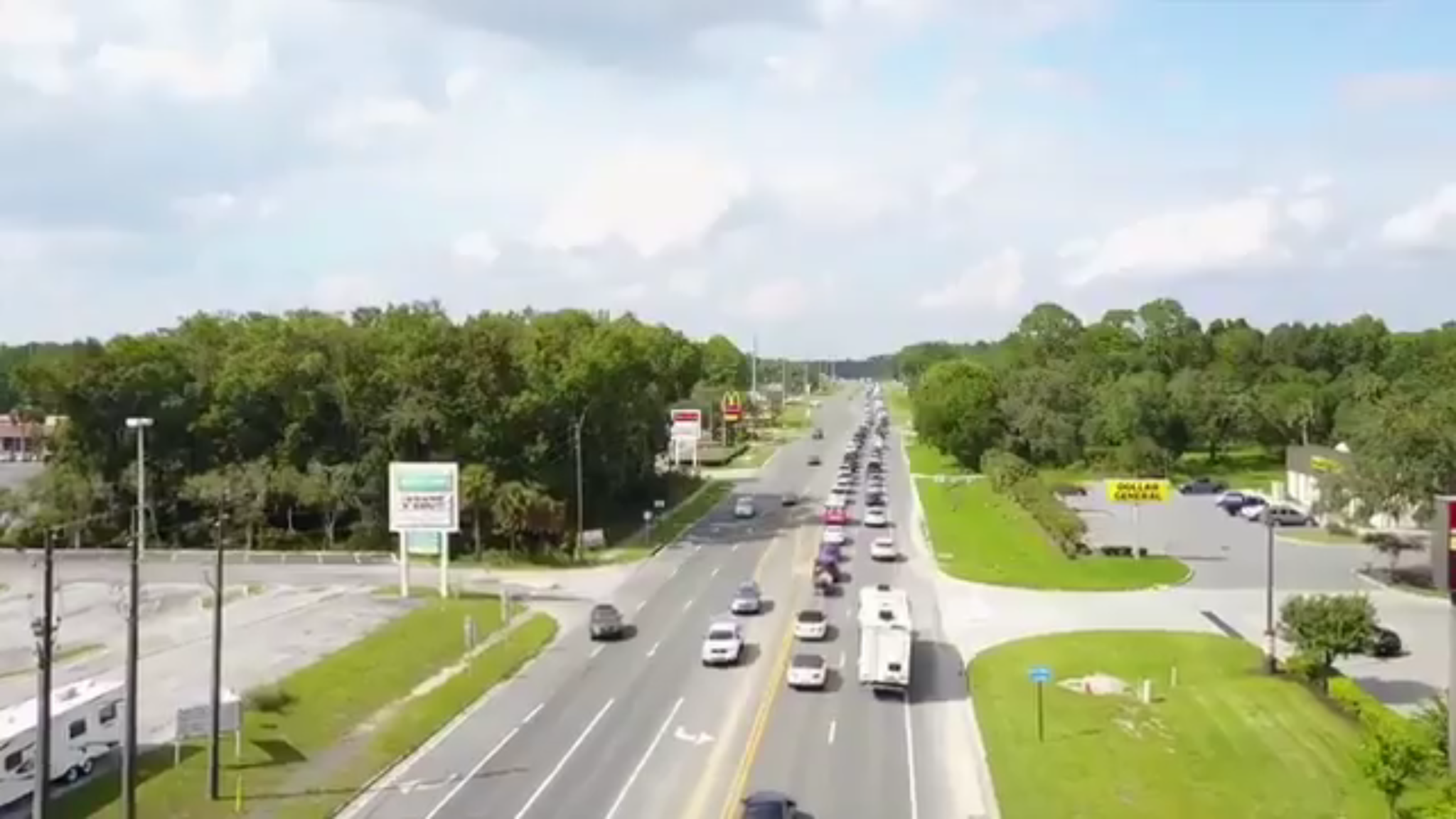 Advisory 45 Key Messages for #Irma

SAFETY TIPS BY FEMA:
Preparedness Tips
Know where to go. If you are ordered to evacuate, know the local hurricane evacuation route(s) to take and have a plan for where you can stay. Contact your local emergency management agency for more information.
Put together a go-bag: disaster supply kit, including a flashlight, batteries, cash, first aid supplies, medications, and copies of your critical information if you need to evacuate
If you are not in an area that is advised to evacuate and you decide to stay in your home, plan for adequate supplies in case you lose power and water for several days and you are not able to leave due to flooding or blocked roads.
Many communities have text or email alerting systems for emergency notifications. To find out what alerts are available in your area, search the Internet with your town, city, or county name and the word "alerts."
Preparing Your Home
Hurricane winds can cause trees and branches to fall, so before hurricane season trim or remove damaged trees and limbs to keep you and your property safe.
Secure loose rain gutters and downspouts and clear any clogged areas or debris to prevent water damage to your property.
Reduce property damage by retrofitting to secure and reinforce the roof, windows and doors, including the garage doors.
Purchase a portable generator or install a generator for use during power outages. Remember to keep generators and other alternate power/heat sources outside, at least 20 feet away from windows and doors and protected from moisture; and NEVER try to power the house wiring by plugging a generator into a wall outlet.
Consider building a FEMA safe room or ICC 500 storm shelter designed for protection from high-winds and in locations above flooding levels.


What to do when a hurricane is 6 hours from arriving

If you're not in an area that is recommended for evacuation, plan to stay at home or where you are and let friends and family know where you are.
Close storm shutters, and stay away from windows. Flying glass from broken windows could injure you.
Turn your refrigerator or freezer to the coldest setting and open only when necessary. If you lose power, food will last longer. Keep a thermometer in the refrigerator to be able to check the food temperature when the power is restored.
Turn on your TV/radio, or check your city/county website every 30 minutes in order to get the latest weather updates and emergency instructions.


After a Hurricane

Listen to local officials for updates and instructions.
Check-in with family and friends by texting or using social media.
Return home only when authorities indicate it is safe.
Watch out for debris and downed power lines.
Avoid walking or driving through flood waters. Just 6 inches of moving water can knock you down, and one foot of fast-moving water can sweep your vehicle away.
Avoid flood water as it may be electrically charged from underground or downed power lines and may hide dangerous debris or places where the ground is washed away.
Photograph the damage to your property in order to assist in filing an insurance claim.
Do what you can to prevent further damage to your property, (e.g., putting a tarp on a damaged roof), as insurance may not cover additional damage that occurs after the storm.
TBU NEWS