A British tabloid newspaper has published footage of Queen Elizabeth II giving a Nazi salute as a child.
The tape, shot in 1933, appears on the website of the Sun, and in still form in the newspaper. It depicts Elizabeth, her mother, her sister Margaret and her uncle Edward (later Edward VIII) playing at Balmoral in Scotland. The degree to which Edward, who reigned for about 11 months in 1936 before abdicating, was sympathetic to the Nazis has long been the subject of historical speculation, while his successor, George VI, led Britain through World War II.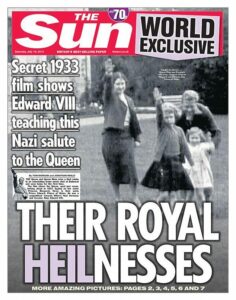 Buckingham Palace took the unusual step of commenting on the report published on Saturday, confirming the authenticity of the video and expressing disappointment over its use.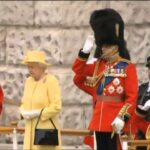 "It is disappointing that film, shot eight decades ago and apparently from Her Majesty's personal family archive, has been obtained and exploited in this manner," a Buckingham Palace spokesman said.
"Most people will see these pictures in their proper context and time. This is a family playing and momentarily referencing a gesture many would have seen from contemporary news reels," the palace said.
"Noone at that time had any sense how it would evolve. To imply anything else is misleading and dishonest."
Editor defends The Sun right to publish
"The Sun starts from the position, a relatively purist position, that it is in the public and national interest to reveal what is a document, a piece of footage of historical and cultural significance."
The Sun said that the emphasis was not on the child who would become queen but her uncle, King Edward VIII who later abdicated to marry socialite Wallis Simpson. Both faced numerous accusations of being Nazi sympathisers.
The palace sought to highlight the Royals dedication to the war effort.
Also, pictured in the footage is the Queen Mother, but her official biographer William Shawcross believes there is no evidence to suggest any affinity with the Nazi party.
"I spent six years or more in the Royal Archives researching the official biography of the Queen Mother, which is a very thick book as you can see (holds up copy) and I read thousands and thousands of her letters written in the 1920s, 1930s and 1940s and I would say there is not a scintilla of evidence that she wrote anything ever, or felt anything ever that was pro-Nazi"
King and his wife Wallace visit to Hitler 1937.
Best Regards
TBU NEWS