Podgorica – 14.11.2015
After terrorist attacks that struck Paris, France and shocked the world on 13th of November, Montenegro decided to join in grief and prayers for people of France. All around the Montenegro people are shocked from pictures and stories  that that are coming from France. So much horror hapened last night on streets of Paris screams are echoing around the world, gunshots and people hanging over the balconies. Paris, the city of  light has been plunged into the dark in one brief moment.
But as a Major of Paris Anne Hidalgo  said :
"Paris is still standing"
Government of Montenegro has given its support and deepest condolences to people of France and to Government of France.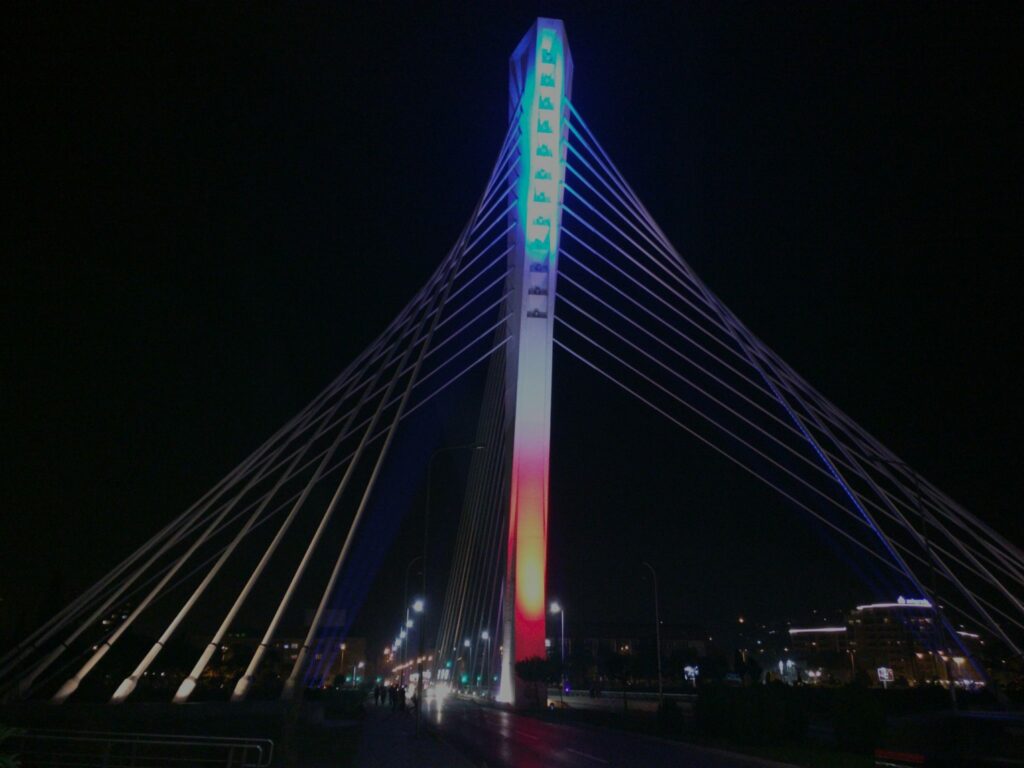 The capital city of Montenegro Podgorica has turned its lights and painted its landmarks in tricolor (France flag) in support to people of France telling them that they are not alone that they have friends and support as in light so in dark. Many young people from Montenegro on Facebook and other social medias has gathered in prayers and support for France.
Montenegrin President Filip Vujanovic sent a telegram expressing his deepest condolences to French counterpart Francois Hollande , due to the deaths of a large number of citizens in the terrorist attacks that happened in Paris.
Vujanovic continued: "Personally and on behalf of all citizens of Montenegro I am sending you my deepest condolences due to the brutal terrorist attack in Paris that killed many innocent people, which binds humanity together in solidarity and resistance to this global evil"
---
Prime Minister Milo Djukanovic has sent a telegram of condolences to Prime Minister of France, Manuel Valls due to terrorist attacks in Paris.
Djukanovic continued: "On the occasion of the unprecedented terrorist attacks last night in Paris, which killed and injured hundreds of innocent people, and on behalf of the Government of Montenegro and in my own name, I extend our deepest condolences to you and solidarity with the friendly people of France"
---
Theguardian reported hat A 51-year-old Montenegrin man is in custody in Bavaria in southern Germany on suspicion of trying to supply arms and explosives to the Paris attackers, authorities in Munich have said.
The man was stopped in a Volkswagen Golf with Montenegrin plates near Germany's border with Austria on 5 November. Officials found a pistol under the bonnet, prompting them to take the car apart. In doing so, they uncovered a sophisticated smuggling operation, with automatic weapons, 200 grammes of dynamite, hand grenades and ammunition concealed in the car's bodywork, according to Bavarian public radio.
Examination of the suspect's mobile phone and the car's GPS system indicated the detainee was en route to Paris.
Police of Montenegro said that they do not have any criminal records and information's about the suspect.
Montenegro is a young democratic country expecting to be invited to NATO later this December.
Recapitulation of what has happened in Paris:
In the worst attack, a Paris city hall official said four gunmen systematically killed at least 87 people at a rock concert by an American band at the Bataclan concert hall before anti-terrorist commandos launched an assault.
Some 40 more people were killed in five other attacks in the Paris region, the official said, including a double suicide bombing outside the Stade de France stadium, where Hollande and the German foreign minister were watching a soccer game.
The assaults came as France, a founder member of the U.S.-led coalition waging air strikes against Islamic State in Syria and Iraq, was on high alert for terrorist attacks, raising questions about how the attacks were able to occur.
Islamic State has claimed responsibility for the attacks in Paris. The terrorist group released a video threatening more assaults if the country continues to bomb its positions.
The video emerges just hours after gunmen and bombers killed more than 120 people in the French capital.
The near-simultaneous attacks in Paris that killed at least 128 people were an "act of war" organised by the Islamic State (IS) militant group, French President Francois Hollande says.
He said the attacks, carried out by eight gunmen and suicide bombers, were "organised and planned from outside".
The targets included bars, restaurants, a concert and a high-profile football match. IS claimed the attacks.
British citizens may be among the 120 or more people killed in a wave of terrorist violence in Paris overnight, Prime Minister David Cameron said in a statement as he offered condolences and help to France.
The PM said Britain and France would stand together in the face of this tragedy and pledged to redouble the effort to eradicate extremist ideology.
"Together with our friends and allies around the world we will stand up for all we believe in," he said.
President Barack Obama on Friday condemned the Paris terror attacks, calling them an "outrageous attempt to terrorize innocent civilians" and pledging the U.S. government's assistance to France.
"This is an attack on all of humanity and the universal values we share," Obama said in a statement delivered in the White House Briefing Room. "We stand prepared and ready to provide whatever assistance the people of France need to respond."
Obama added, "This is a heartbreaking situation, and obviously those of us here in the United States know what it's like and we've gone through these kinds of episodes ourselves."
MOSCOW, November 14. /TASS/. Russia's President Vladimir Putin sent a condolences telegram to France's President Francois Hollande, the Kremlin said on Saturday.
"This tragedy is another proof of the barbarian nature of terrorism, which challenges the human civilization. Clearly, for effective fighting this evil, the entire international community should unite efforts," Putin said in the telegram. "I would like to confirm the Russian side is ready for most close cooperation with the French counterparts in investigating into the crime in Paris. I hope the initiators and executors will receive deserved punishments."
France has just taken an unprecedented step in closing its borders after a slew of attacks, which police believe are coordinated, hit the Paris area on Friday evening.
French President Francois Hollande announced the border closure in a statement to the nation on Friday evening.
"An unprecedented terrorist attack is underway," Hollande said in a televised statement. "This is horror."
Hollande also declared a nationwide state of emergency. It is reportedly the first time since the Algerian War, which lasted from 1954-62, that France has declared a state of emergency.
The deadly attacks in Paris have sparked a debate in Germany on Chancellor Angela Merkel's refugee policy and how to get a better overview of the people entering the country.
Islamic State on Saturday claimed responsibility for the coordinated assault by gunmen and bombers that killed 127 people in Paris. President Francois Hollande said the attacks amounted to an act of war against France.
Merkel said Germany would help France to hunt down the perpetrators and backers of the attacks, promising a joint battle to defend European values.
"This attack on freedom is not only aimed against Paris. It's aimed against us all," Merkel said. "We know that our free life is stronger than terror."
German authorities increased security measures at public places such as train stations and Interior Minister Thomas de Maiziere said more extremists could be on the run.
Poland closes its borders
Poland's future minister for European affairs said his government will not accept EU-mandate quotas for refugees following the terrorist attacks in France.
Konrad Szymanski, who will take the office on Monday as part of the country's new conservative government, said his cabinet didn't agree with their predecessors' commitment to take a share in the refugee burden.
Now, "in the face of the tragic acts in Paris, we do not see the political possibilities to implement" the plan, he told the right-leaning news portal wPolityce.pl.