Just 1 day to go until November 8 presidential elections, Republican nominee Donald Trump takes the lead over Democratic nominee Hillary Clinton by 2% – — 43% to 41% — in a four-way race, according to the latest IBD/TIPP presidential tracking poll.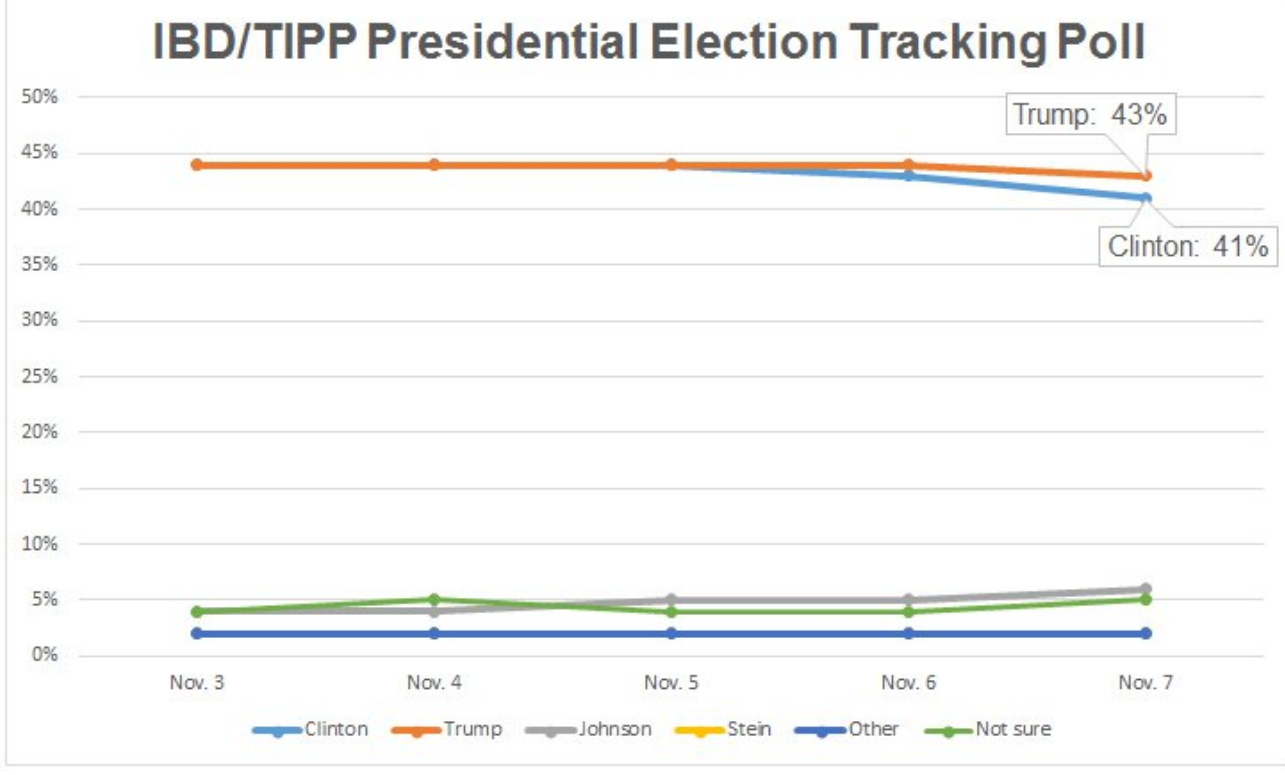 The IBD/TIPP poll — a collaboration between Investor's Business Daily (IBD) and TechnoMetrica Market Intelligence (TIPP) — has been the most accurate poll in recent presidential elections
La Times latest polls also shows that Donald Trump has taken the lead over Democratic nominee Hillary Clinton in peoples vote according to the latest USC Dornsife/Los Angeles Times "Daybreak" tracking poll predictions .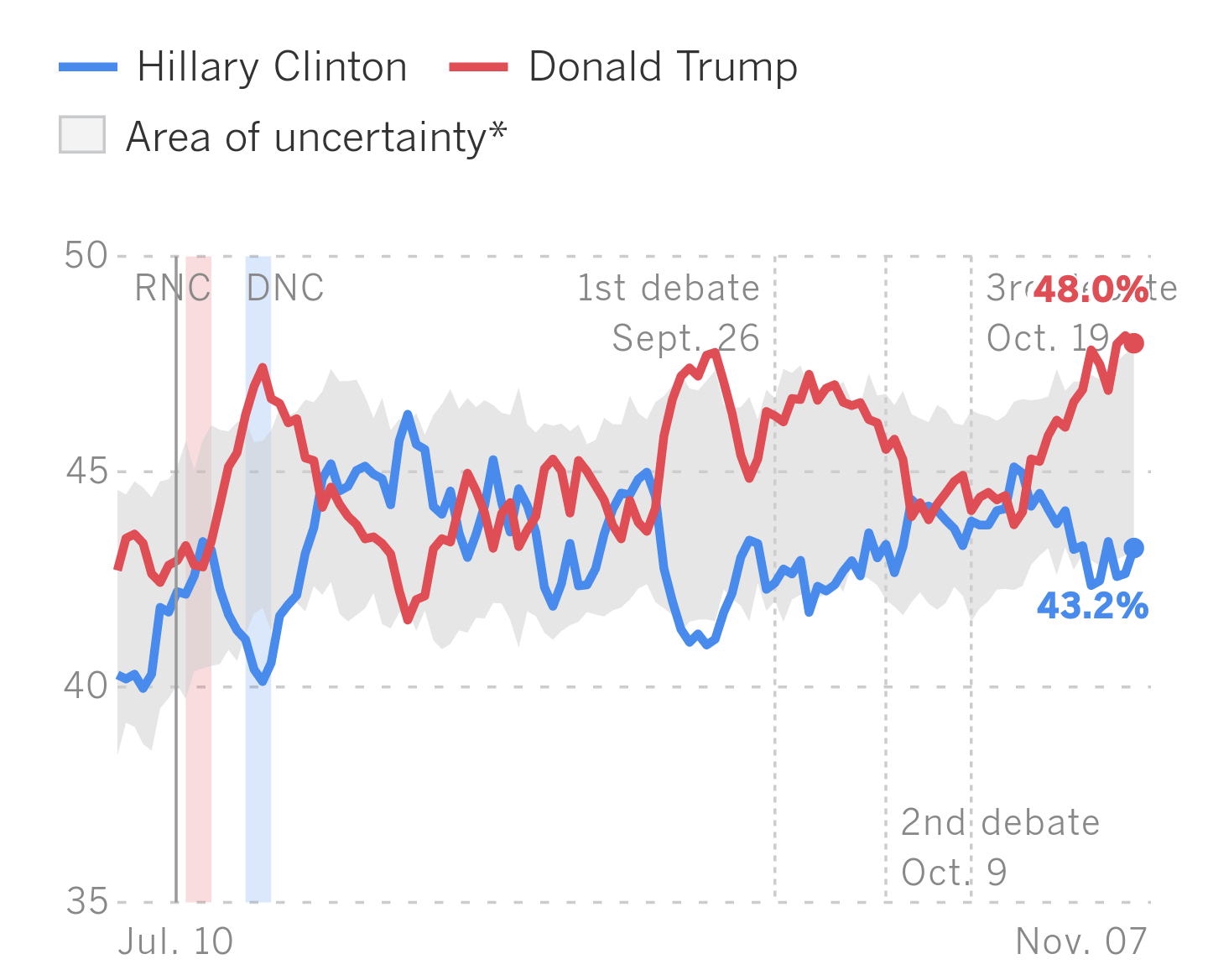 ————————————————————————–
"The USC Dornsife/Los Angeles Times "Daybreak" poll tracks about 3,000 eligible voters until election day, asking on a regular basis about their support for Hillary Clinton, Donald Trump or other candidates as well as their likelihood of actually casting a ballot." – (LA Times)
————————————————————————–
It should be noted that LA Times is very well known for its methodology used when probing public opinion. According to them "stable and reliable" respondents are being surveyed.
For more details on LA Times poll, visit the following link: http://graphics.latimes.com/usc-presidential-poll-dashboard/
Some opinion polls in the past presented by the very same LA Times where almost unmistakeably "clairvoyant". Many experts stated that those polls where one of the most accurate in the previous race for the White House. LA Times was able to anticipate the re-election of Barack Obama as President of the United States with a margin of error that was absolutely negligible. According to LA Times polls, Obama was ahead of candidate Romney by 3.32%. Obama has achieved it's victory with 3.85% of advantage. According to LA Times, Trump is in a continuous advantage over Clinton for nearly half a year.
Electorate Votes latest predictions Hilary Clinton is leading over Donald Trump
On the other hand acording to LA Times latest Electorate Votes predictions Hilary Clinton is in lead over Donald Trump but with with great margin of uknown and likely votes.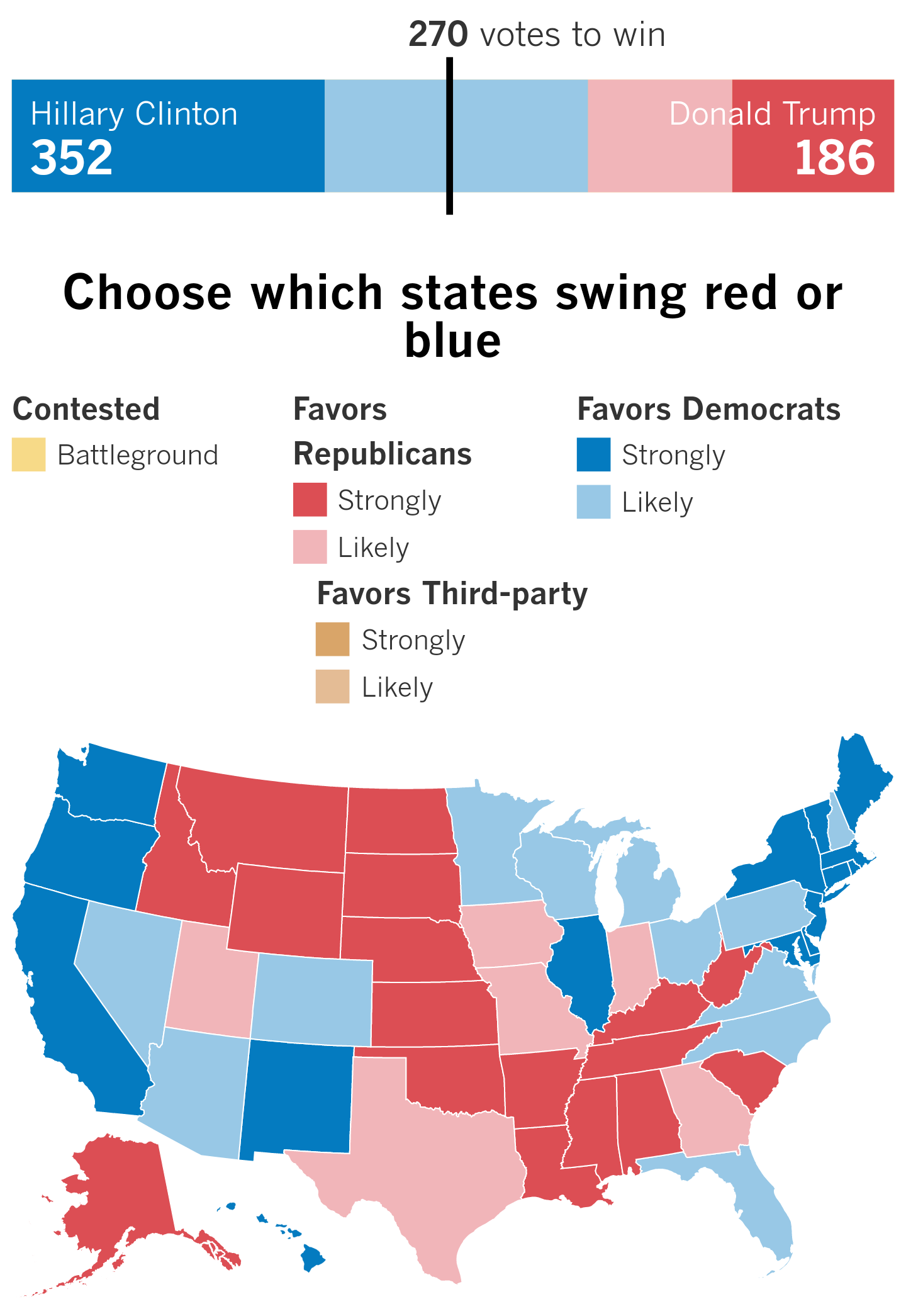 "A presidential candidate needs 270 electoral votes to win the White House. Most states predictably vote red or blue, but a small handful swing either way and make up the main election battlegrounds. What does it take to win the presidency?" – LA Times
Everything is possible
The odds are very narrow everything is possible because the margin of unknowns and likely votes is big not to mention the new comers (people that have never voted before). Donald Trump is counting on those.
Lets see who will get the presidency and become the 45th President of the United States.
Best Regards
TBU NEWS