The main reason why Russian jet has been shoot down by Turkey has being "MONEY".
The Islamic State  earns up to $10 million a month selling oil on black markets.
Documents and flash drives seized during the Sayyaf raid revealed links between Turkey and ISIS  senior Western official familiar with the captured intelligence told the Guardian.
NATO member Turkey has long been accused by experts, Kurds, and even Joe Biden of enabling ISIS by turning a blind eye to the vast smuggling networks of weapons and fighters during the ongoing Syrian war.
The move by the ruling AKP party was apparently part of ongoing attempts to trigger the downfall of Syrian President Bashar Assad's regime.
Ankara frontier became a transit point for cheap oil, weapons, foreign fighters, and pillaged antiquities.
Talking abot Russina jet shoot down by Turkey Putin makes it quite clear that Turkey, a NATO state, is responsible for ISIS funding:
PUTIN: OIL FROM ISLAMIC STATE IS BEING SHIPPED TO TURKEY
PUTIN SAYS ISLAMIC STATE GETS CASH BY SELLING OIL TO TURKEY
PUTIN: ISLAMIC STATE GETS MILITARY SUPPORT FROM MANY STATES
Russia claims to have destroyed more than 1,000 transport vehicles in November.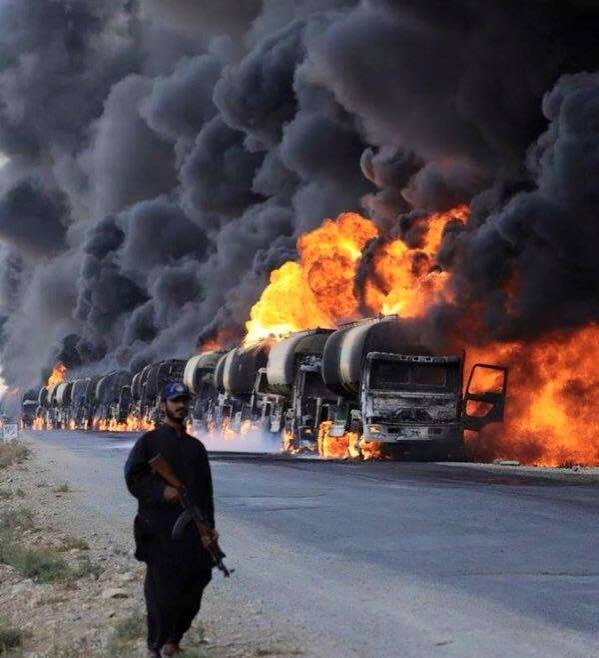 Of course the most intriguing questions when it comes to Islamic State's $400 million+ per year oil business, are: where does this oil end up and who is facilitating delivery?
Turkey's role in facilitating the sale of Islamic State oil has been the subject of some debate for quite a while.  Nafeez Ahmed:
 "Turkey has played a key role in facilitating the life-blood of ISIS' expansion: black market oil sales. Senior political and intelligence sources in Turkey and Iraq confirm that Turkish authorities have actively facilitated ISIS oil sales through the country. Last summer, Mehmet Ali Ediboglu, an MP from the main opposition, the Republican People's Party, estimated the quantity of ISIS oil sales in Turkey at about $800 million—that was over a year ago. By now, this implies that Turkey has facilitated over $1 billion worth of black market ISIS oil sales to date."
Former CHP lawmaker Ali Ediboglu:
"$800 million worth of oil that ISIS obtained from regions it occupied this year [the Rumeilan oil fields in northern Syria — and most recently Mosul] is being sold in Turkey. They have laid pipes from villages near the Turkish border at Hatay. Similar pipes exist also at [the Turkish border regions of] Kilis, Urfa and Gaziantep. They transfer the oil to Turkey and parlay it into cash. They take the oil from the refineries at zero cost. Using primitive means, they refine the oil in areas close to the Turkish border and then sell it via Turkey. This is worth $800 million."
Earlier this month, Ediboglu told Russian media that "ISIL holds the key to these deposits and together with a certain group of persons, consisting of those close to Barzani and some Turkish businessmen, they are engaged in selling this oil" ("Barzani" is a reference to Masoud Barzani, President of the Iraqi Kurdistan Region).
But even as Turkey's ties to the ISIS oil trade have been hiding in plain sight for the better part of two years, the Western media largely ignores the issue (or at least the scope of it and the possible complicity of the Erdogan government) because after all, Turkey is a NATO member.
Unfortunately for Ankara, Erdogan's move to shoot down a Russian Su-24 near the Syrian border on Tuesday prompted an angry Vladimir Putin to throw Turkey under the ISIS oil bus for the entire world to see. Here's what Putin said yesterday after a meeting in Moscow with French President Francois Hollande:
"Vehicles, carrying oil, lined up in a chain going beyond the horizon. The views resemble a living oil pipe stretched from ISIS and rebel controlled areas of Syria into Turkey. Day and night they are going to Turkey. Trucks always go there loaded, and back from there – empty. We are talking about a commercial-scale supply of oil from the occupied Syrian territories seized by terrorists. It is from these areas [that oil comes from], and not with any others. And we can see it from the air, where these vehicles are going."
How could Isis be eliminated? In the region, everyone knows. All it would really take would be to unleash the largely Kurdish forces of the YPG (Democratic Union party) in Syria, and PKK (Kurdistan Workers' party) guerillas in Iraq and Turkey. These are, currently, the main forces actually fighting Isis on the ground. They have proved extraordinarily militarily effective and oppose every aspect of Isis's reactionary ideology.
But instead, YPG-controlled territory in Syria finds itself placed under a total embargo by Turkey, and PKK forces are under continual bombardment by the Turkish air force. Not only has Erdoğan done almost everything he can to cripple the forces actually fighting Isis; there is considerable evidence that his government has been at least tacitly aiding Isis itself.
It might seem outrageous to suggest that a Nato member like Turkey would in any way support an organisation that murders western civilians in cold blood. That would be like a Nato member supporting al-Qaida. But in fact there is reason to believe that Erdoğan's government does support the Syrian branch of al-Qaida (Jabhat al-Nusra) too, along with any number of other rebel groups that share its conservative Islamist ideology. The Institute for the Study of Human Rights at Columbia University has compiled a long list of evidence of Turkish support for Isis in Syria.
And then there are Erdoğan's actual, stated positions. Back in August, the YPG, fresh from their victories in Kobani and Gire Spi, were poised to seize Jarablus, the last Isis-held town on the Turkish border that the terror organisation had been using to resupply its capital in Raqqa with weapons, materials, and recruits – Isis supply lines pass directly through Turkey.
Best Regards
TBU NEWS