A strong earthquake with a magnitude of 7.9 has struck off the coast of the Philippines, the U.S. Geological Survey said Friday.
The quake prompted a tsunami warning for parts of Indonesia, the Philippines, Taiwan, Japan, Guam and other areas, the Pacific Tsunami Warning Center said.
"An earthquake of this size has the potential to generate a destructive tsunami that can strike coastlines near the epicenter within minutes and more distant coastlines within hours," the tsunami warning center said.
The quake, which was about 20 miles deep, struck just before 8:50 p.m., the agency said. Its center was about 65 miles southeast of the town of Guiuan, in the Philippine province of East Samar.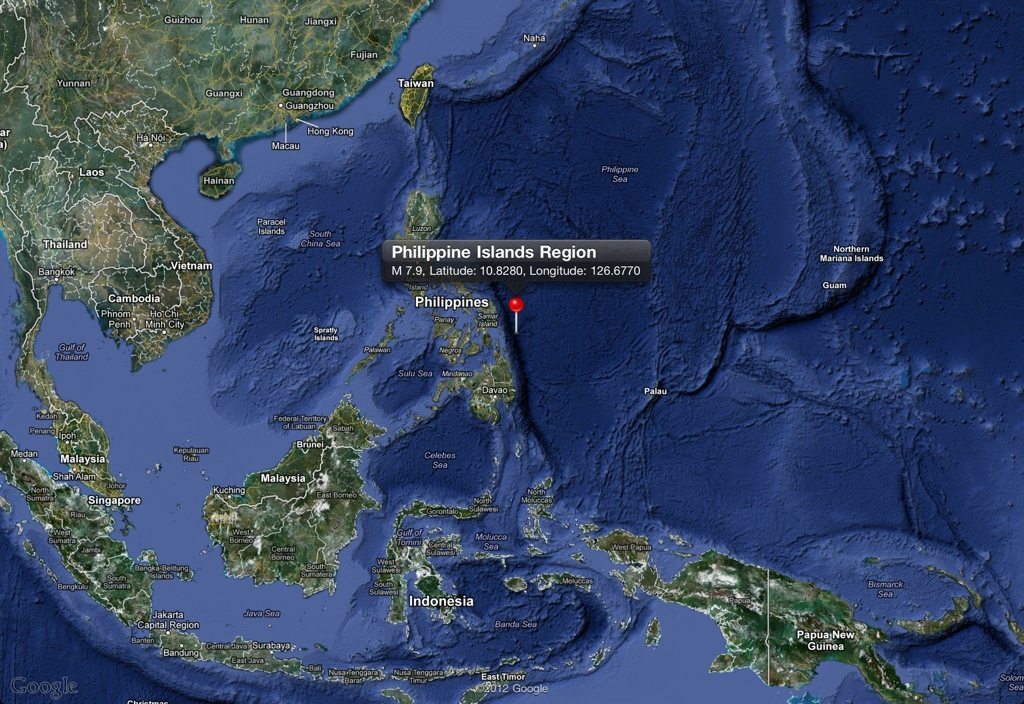 7.9 Mwp – PHILIPPINE ISLANDS REGION
Preliminary Earthquake Report
Magnitude 7.9 Mwp
Date-Time
31 Aug 2012 12:47:34 UTC
31 Aug 2012 20:47:34 near epicenter
31 Aug 2012 13:47:34 standard time in your timezone
Location 10.828N 126.677E
Depth 34 km
Distances
106 km (66 miles) ESE (102 degrees) of Guiuan, Samar, Philippines
175 km (109 miles) NE (48 degrees) of Surigao, Mindanao, Philippines
187 km (116 miles) ESE (104 degrees) of Tacloban, Leyte, Philippines
749 km (465 miles) SE (124 degrees) of MANILA, Philippines
Location Uncertainty Horizontal: 13.7 km; Vertical 5.8 km
Parameters Nph = 486; Dmin = 432.9 km; Rmss = 1.00 seconds; Gp = 13°
M-type = Mwp; Version = 9
Event ID us c000cc5m
For updates, maps, and technical information, see:
Event Page
or
USGS Earthquake Hazards Program
Source:
http://edition.cnn.com/2012/08/31/world/asia/philippines-earthquake/index.html?hpt=hp_t1
National Earthquake Information Center
U.S. Geological Survey
http://neic.usgs.gov/
TBU NEWS