TBU NEWS is republishing in its full The Reaction of CPJ. – The Committee to Protect Journalists today called on Montenegrin authorities to guarantee the safety of Olivera Lakić, an investigative journalist with the local daily Vijesti, who was shot outside her apartment building in the capital Podgorica yesterday evening, the regional news website Balkan Insight reported.
According to a report in the Guardian, a man around 9 p.m. approached the journalist and shot her in the leg while two other men ran away. Lakić was taken to a hospital and was in stable condition, her employer reported.
Lakić has reported extensively on crime and corruption in Montenegro and she is the second investigative journalist from Vijesti to be attacked this year, according to news reports. On April 1, a bomb exploded near the house of Lakić's Vijesti colleague, Saed Sadikovic, in the town of Bijelo Polje, CPJ reported at the time.
"Montenegrin authorities must ensure that Olivera Lakić and other reporters can work safely in the country," said CPJ European Union Representative Tom Gibson in Brussels. "Investigative journalists are not safe in Montenegro, as shown by the recent attacks on Lakić and her colleague Saed Sadikovic. Media freedom and the safety of journalists should be a sticking point during future European Union accession negotiations."
World Wide statistics: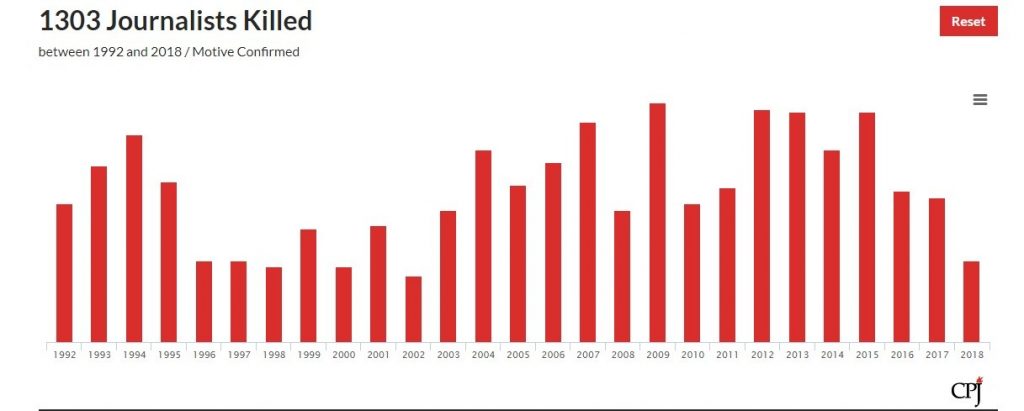 Montenegrin Prime Minister Duško Marković condemned the attack and urged a "swift and efficient investigation" to discover the motive as well as who might have ordered the shooting, The Washington Post reported.
According to Safe Journalists, a press freedom tracker run by the local journalists' union, the perpetrators "wanted to send her a message to stop with reporting on suspicious and criminal affairs, which she has been doing with for years."
In comments published on the Vijesti website, the chief editor, Mihailo Jovović, drew a connection between the attack on Lakić and her reporting. "A lot of stories she wrote have not been investigated [by the authorities]. For how much longer must we live in fear of such cowards?" he added.
According to the Guardian, Lakić was previously attacked six years ago after she wrote a series of articles about alleged opaque dealings over a tobacco factory. The attacker was jailed for several months and Lakic had temporary police protection, the paper reported.
Source and republished from : CPJ
TBU NEWS