US presidential candidate Hillary Clinton had to seek rest  after feeling "overheated" at a 9/11 commemoration event, according to a statement coming from her campaign spokesperson.
Kyle Griffin: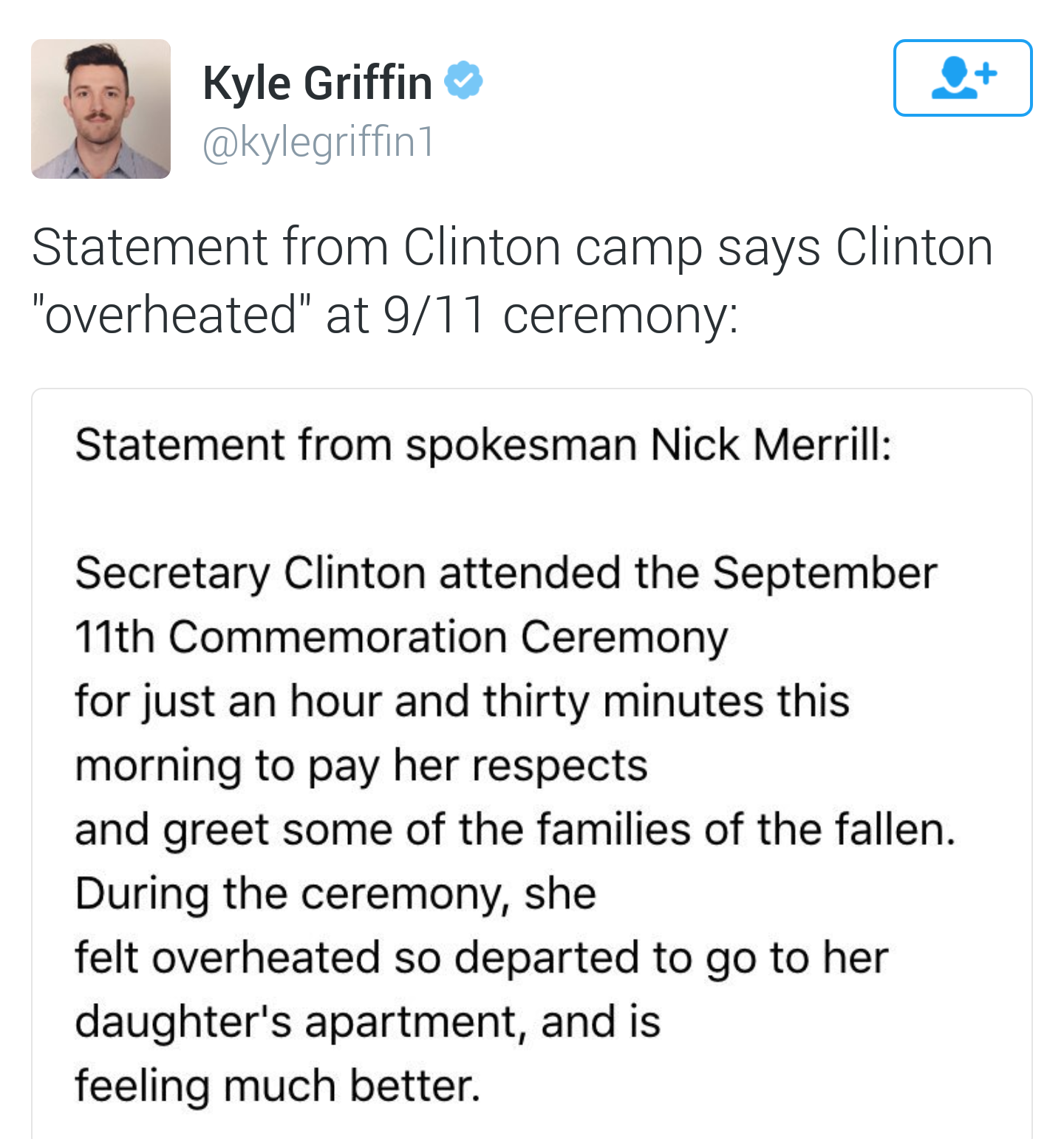 There where some earlier media reports about Hillary's alleged medical issues. Question's must be asked: Is this serious or just a bad choice of words used by her campaign spokesperson? Are there any serious health issues with former Secretary Hillary Clinton or this was just an "overheating" incident?
According to the video it seems that in one moment former Secretary Hillary Clinton almost fainted and was helped by her personal to leave the event.
After some time CNN filmed former Secretary Hillary Clinton walking towards her car and confirming that she is feeling better.
(watch the video below)
quote:
CNN reporter – "Are you feeling better secretary Clinton?"
Hillary Clinton – "Yes… Thank you very much.."
These questions must be asked because she is not running for best chess player. Former Secretary Hilary Clinton is running for the seat of the President of United States.
Lets just hope that she or her media staff will clarify this as soon as possible.
Latest update
"Secretary Clinton has been experiencing a cough related to allergies. On Friday, during follow-up evaluation of her prolonged cough, she was diagnosed with pneumonia. She was put on antibiotics, and advised to rest and modify her schedule. While at this morning's event, she became overheated and dehydrated. I have just examined her and she is now rehydrated and recovering nicely," said Clinton's physician, Dr. Lisa Bardack, in a written statement on Sunday evening.
Later on 12.09.2016 Hillary Clinton spoke with CNN's Anderson Cooper about having pneumonia and why she didn't disclose that information to voters sooner.
Clinton: "I thought I could power through illness"
The head of the populist-nationalist Russian LDPR party Vladimir Zhirinovsky known for his eccentric behavior and bold statements, commented on Hillary Clinton "Overheating" incident during a live broadcast on a Russian TV.
"It is unacceptably dangerous for the potential president and the commander-in-chief of a major nuclear power to cover up his or her health issues", said the leader of the Russian Liberal Democrats
"We won't speculate about Clinton's health condition,We feel for her. That's a sensitive matter. But a head of state can't hide [his/her] health condition."
"She blacks out in the middle of a work day!" Zhirinovsky noted, adding that it's vitally important for a nuclear power such as the US to have a healthy leader who is fully aware of their actions.
"What if she faces a decision: to bomb or not to bomb? And at that time she suffers seizure and faints?" Zhirinovsky asked.
Best Regards
TBU NEWS